EASY SPROUT SPROUTER
GOOD FOR MOST SPROUTS
Easy Sprout Sprouter is one of the best choices for both new and experienced sprout growers. It only comes in white, but that is very becoming in any kitchen.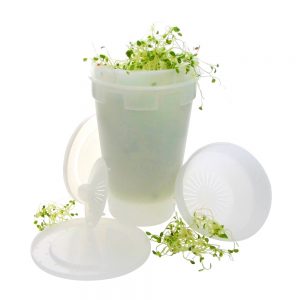 PARTS
An Easy Sprout Sprouter consist of 6 parts:
1 whole lid + a perforated lid + a ventilation top + an inner container
an outer container + a sieve for small seeds
 1
Measure out your chosen organic sprouting seeds. There is a measuring scale in the ventilation top.
2
Let the seeds soak in fresh, cool water for 8-12 hours. The seeds will absorb much water, so fill the sprouter well.
3
Pour away the soaking water and gently pour the moist legumes into the clean bowl.
4
 Rinse the legumes with clean fresh, cold water until the water is all clear. Let the water drain away but do not rub or dry the legumes. They need to be constantly moist but not directly wet.
5
Wring the cloth in cold water and place it over the opening of the bowl. The cloth must not touch the sprouts.
6
Place the bowl on your kitchen table out of direct sunlight in a shady but not directly dark place.
Rinse morning and night following point 4 to 6.
7
When the white root on the sprout is over 1 centimetre long, they are ready. Rinse them thoroughly and enjoy them in your food.
ALMOST ALL SPROUTS
The Easy Sprout Sprouter is suitable for all sprouts except the mucilaginous seeds such as Cress, Chia and Flax. There is only one container for the sprouts, so you can only sprout one group of sprouts at a time. You can however easily mix the varieties within the same group and get a more varied taste.
SIZE & WEIGHT
Fully assembled the Easy Sprout Sprouter is 25 centimetre high and 13 centimetre wide. All parts are made of plastic so it weighs only 200 grams.
APPEARANCE
An Easy Sprout Sprouter is a slightly transparent white with sleek lines which make it quite make it attractive in a light Scandinavian kitchen.
CAPACITY
One Easy Sprout Sprouter can contain three large handfuls of fully grown lentil sprouts and still have the needed ventilation. You can also use the sprouter itself for transporting the sprouts.
CLEANING
The Easy Sprout Sprouter is very easy to clean as it is made with a smooth surface on the inside without a lot of edges. You can clean it with ordinary non perfumed dishwashing soap.
SEEDS FOR SPROUTING
These 4 seeds are some of the many suitable for sprouting in an Easy Sprout Sprouter.
LENTIL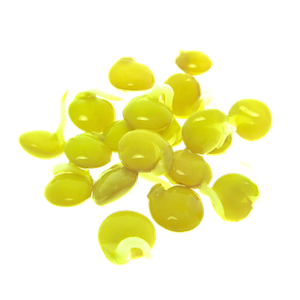 MUNGBEAN
CHICK PEA
PEA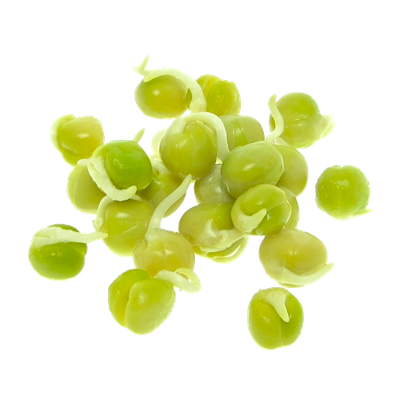 RATING
EASY SPROUT SPROUTER
I give Easy Sprout Sprouter a 4 out of 5 sprout rating.
I have given this rating because even though the sprouter can only grow one variety at a time, it is multifunctional and easy to use for both children and adults. I especially like, that you can use the sprouter for all stages of sprouting: soaking, rinsing, storing and transportation.