The sprout size depends on your seed variety and the growing conditions of the plants. But there is also the question of aesthetics and how you wish to use the sprout or microgreen in your dish.

SPROUT SIZE BY 4 FACTORS
Sprout size is determined by four factors that is controlled by either you or nature:
Seed variety
Growing conditions
Desired aesthetics
Culinary use
These four are explained further in the following article.
CERTIFIED SEEDS OR RISK STOMACH ACHE
Before we start it is important that you understand, you should not cultivate just any seed you find in your supermarked or local flower shop. I always underline, that you should only use certified sprouting seeds for your sprouts and microgreens.
This is because you can only be sure the sold seed varieties are actually suitable for this specific use. That a seed will germinate, does not mean it is edible for humans in its sprouted or microgreen state. 
So I urge you to only cultivate certified sprouting seeds from certified sprouting seed manufactorers and distributors. I am far from the only certified sprouting seed distributor. The web is filled with good, certified seed companies.
In this notion: Garden seeds may be rinsed in anti-fungi solutions or may not have undergone the thorough bacterial control applicable to sprouting seeds. You can read more about certified seeds in the blog post CLEAN SPROUTS >
Now…moving on to something lighter: The size of your Sprouts and Microgreens.
1 SPROUT SIZE VERSUS SEED VARIETY
The variety of the seed will determine if the seed may be cultivated to only a short root or leafy sprouts and microgreens.
Here is a list for you:
ROOT
These legumes are grown only till 1-2 cm long white root:
Lentils   ·   Mung beans   ·   Chickpeas   ·   Grains
These varieties may have green tips on their stems, but if they form actual green leaves you should discard them.
SEEDS
These seed are cultivated till sprout with leaves or microgreens:
Broccoli  ·  Fenugreek  ·  Endive  ·  Fennel  ·  Cress  ·  Daikon  ·  Clover  ·  Alfalfa  ·  Rape  ·  Kale  ·  Radish  · Rucola  ·   Cabbage  ·  Mustard  ·  Sunflower
ROOT, SPROUT, MICROGREEN
These few varieties may be cuktivated to both root, sprout with leaves and/or microgreens:
Corn/Mais   ·   Fenugreek   ·   Peas
WHAT TO DO WHEN THE SPROUT SIZE IS TOO BIG
Have your sprouts of beans, chick pea or lentils developed leaves? No worries.
Your organic sprouting seeds from FRESH SPROUTS are completely natural seeds. Therefore, you do not necessarily have to dispatch these plants if they have grown too big. You can simply move the sprouts to a pot with soil. Here they can grow to become fully grown plant. In time you may harvest their pods for your dinner from them.
Any plant will only grow as long as it has the necessary water, heat, light and nutrients at its disposal.
You provide the water via your daily rinses twice a day.
The heat is the normal temperature in your kitchen as long as it is between 10 and 25 ºC. If the temperature is higher or lower you should concider moving the SproutPearl to a warmer or colder spot.
The natural light in your kitchen is sufficient for sprouts. For microgreens you should provide extra light via a plant light bulb.
Your plants draw their nutrients from within their seeds in the first 8 days. This is as nature has intended for all plants that propagate through seeds.
After about the first 8 days of growth the seeds nutritional storage is used up. You therefore need to provide some sort of fertilizer if you wish for the plants to reach the microgreen stage.
The point of this second factor is to tell that lack of any of these 4 factors will make your plants grow very slowly or become very short as the plant is stressed from less optimal growth conditions.
3 SPROUT SIZE AND DESIRED AESTHETICS
Sometimes a dish may look best with long, lanky sprouts placed elegantly beside the main focus.
At other times you may wish tiny, elegant and natural pieces of natural art to be sprinkled over the dish.
The fact is that you will soon discover that sprouts can fulfill all of your culinary desires. All you have to do is start your sprouting adventures.
You can see all the varieties with colours and possible harvest size in the Sprout Chart.
SPROUT CHART
4 SPROUT SIZE AND CULINARY USE
You will soon notice that your sprouts change taste as they grow.
A rule of thumb is that legumes are most crisp and have the most soft and round taste when they have just matured. For Green Peas and Lentils the mature stage is when the white root is 1 cm long. For Mung beans and Chick peas it is when the white root is 2 cm long.
For leafy sprouts like Broccoli, Radish and the others mentioned in factor 1 the mature time is when the just unfolded leaves have developed deep colours.
For microgreens it is any time after the second set of leaves have unfolded and developed colours.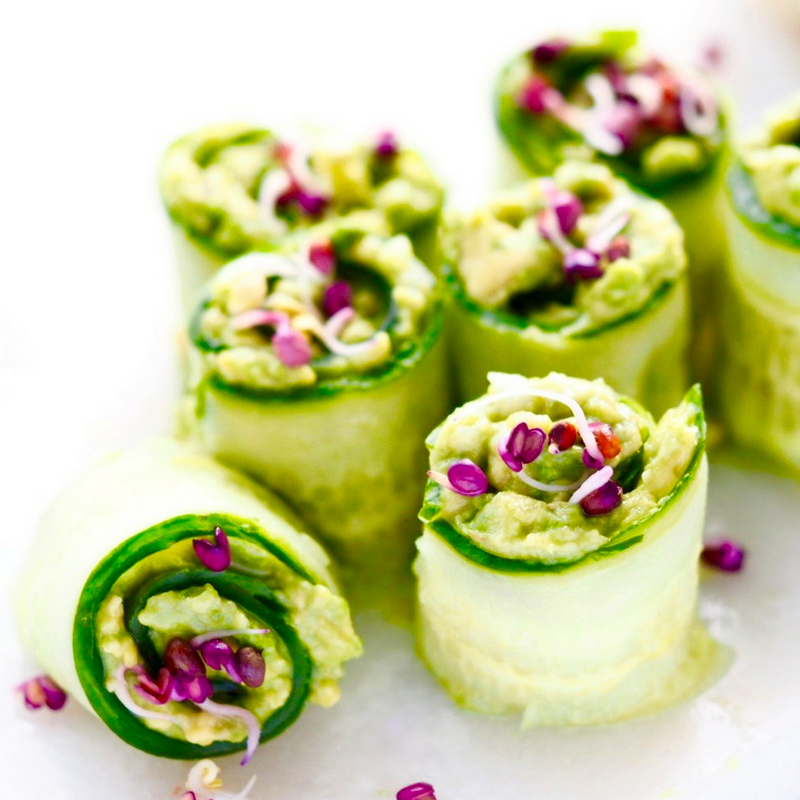 PRODUCTS FOR YOUR SPROUTS & MICROGREENS