SPROUTS ON COTTON
AN EASY WAY TO GROW SPROUTS
Sprouts on cotton are easy to grow for children and adults. It only takes 6 days and you can eat the cultivated sprouts in the end.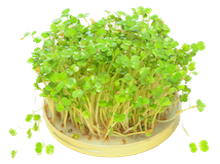 MATERIALS
One handful organic cotton
1 tsp organic sprouting seeds
One small porcelain plate
1

Put 4 mm high organic cotton on a small plate in an even layer. The cotton must be organic so it does not contain any bleach chemicals.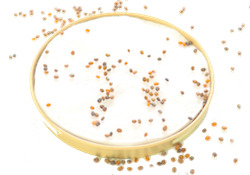 2
Add cool water to the cotton till it is wet. The cotton should only be this wet the first 8 – 12 hours because the seeds need to initially soak to start the sprouting.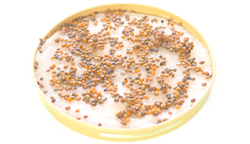 3
Pour the organic sprouting seeds on to the wet cotton. The seeds chould be in one layer and only just touch each other. This gives them room to grow.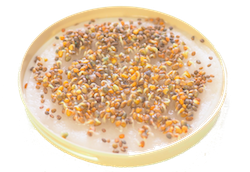 4
Place the plate on the kitchen table out of the sun. A shady corner close to the sink is best. Here you will remember to give the sprouts a little water 2 times every day.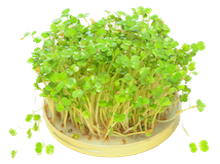 5
The cotton should always be a little moist but not directly wet during the next 6 days, where your little sprouts will grow bigger and eventually develop leaves.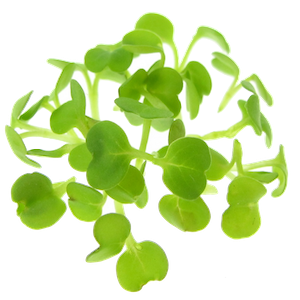 6
When the sprouts are about 10 cm high and have leaves, you can cut them off 1 cm above the cotton and eat them.
ALL SPROUTS ON COTTON
?
You could grow all leafy sprouts on cotton, but only mucilaginous seeds must be cultivated on organic, un-bleached cotton spread out on a plate. This special cultivation method is because mucilaginous sprouting seeds form gel when they get wet and until they form leaves. Due to this gelling seeds cannot be cultivated in an ordinary sprouter such as a BergsBioSalad or a SproutJar.