Rinsing morning and evening is essential for your sprouts and microgreens. This is easy when you cultivate them in a SproutPearl sprouter.
5 TIPS TO RINSING SPROUTS
One of the most important elements when you cultivate your own sprouts and microgreens is the rinsing morning and evening.
Here is 5 tips to your rinsings:
Use clean, cool, drinkable water.
Rinse to keep the plants moist – not wet.
Ease the work with a good sprouter.
Drain away excess water.
Rinse according to temperature.
If you follow these 5 tips, your sprouts and microgreens will grow well and succesfully.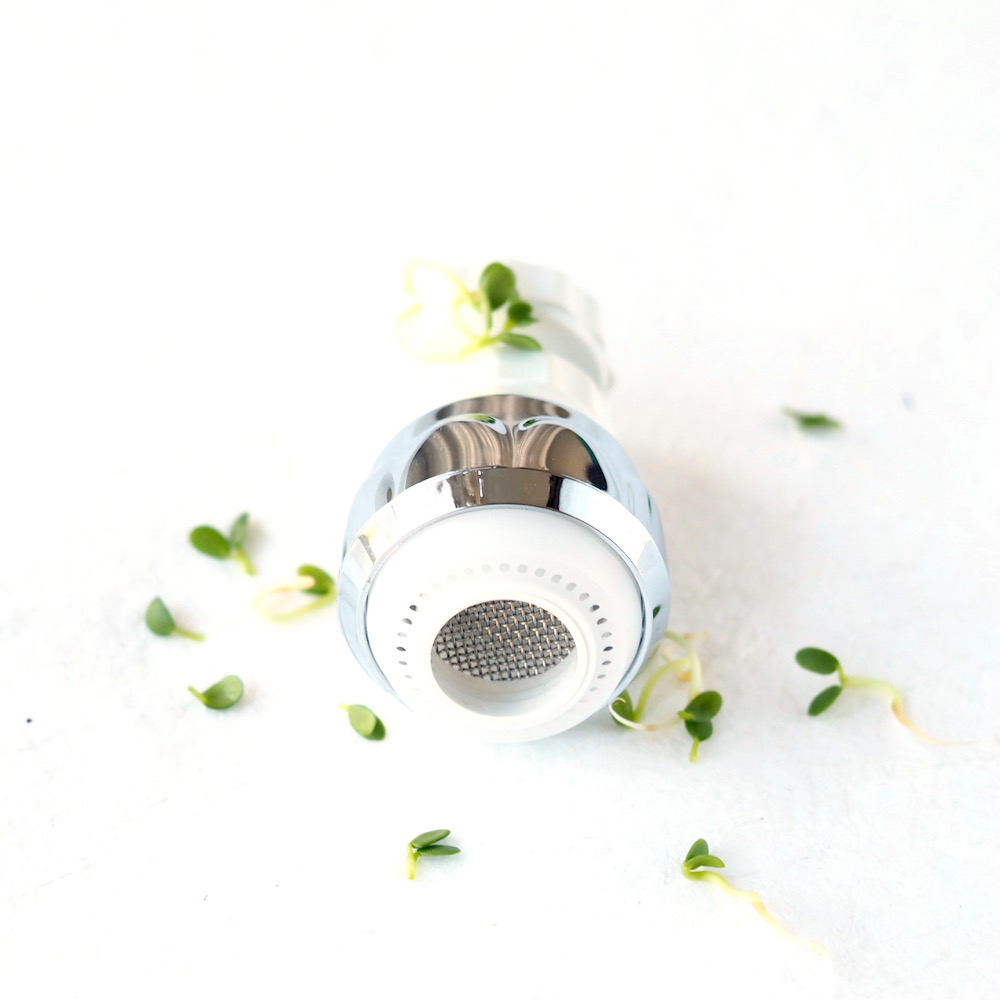 1 RINSING SPROUTS WITH CLEAN WATER
Water is one of the main keys for the life and growth of your plants. Because of this your sprouts and microgreens love their twice daily showers.
The water cleanses away the small amounts of bacteria that naturally float around in the air. But even more important the water also moisturises the roots of the plants and lets them drink up the moist.
This way your plants can continue their growth.
But the daily rinsing morning and evening is only a joy for your plants, if the water is of the right quality. The water for your rinsing should be:
fresh, clean and drinkable for humans.
free from chlorine and other chemistry.
cool but not directly cold.
In many countries – like here in Denmark – the water from the kitchen tap is of a good enough quality for rinsing sprouts and microgreens.
2 RINSING SPROUTS TO BE MOIST
From the time you pour the soaked seeds into the SproutPearl and till you harvest the mature plants, they need to be slightly moist at all times.
Moist but not directly wet. The difference is that wet sprouts are covered with water and will therefore suffocate due to the lack of oxygen. Moist sprouts on the other hand only have a little water stuck to their surface. As they slowly absorb this water, they can breathe again.
This balance is easy to achieve when you cultivate your plants in the SproutPearl.
3 EASY RINSING WITH A GOOD SPROUTER
In cooking it said that good kitchenware is half the job. It is just the same with your sprout and microgreen cultivation: A good sprouter makes the cultivation fun and the daily rinsing easy.
Yes, you are right. This is the place where I recommend my SproutPearl sprouter as a good choice. I have designed this sprouter to make both your rinsing easy and the following drainage requires only a slight flip of your hand.
Total rinsing time: Just 15 seconds. And the plants never get overly soaked in this sprouter.
4 RINSING SPROUTS AND DRAINAGE
In tip 2 I explained why it is important that your seeds and plants are not soaked and lie under water after rinsing. Yhis is the reason why sufficient drainage is so important.
Drainage sumply mean that after the rinse, you drain away excess water from the sprouter.
For your SproutPearl it is done with flipping your hand holding the seed tray in a soft and slight angle for 4 seconds after each rinse. Then excess water will drain away and the plants are left moist but not wet – just the way your little plants love it.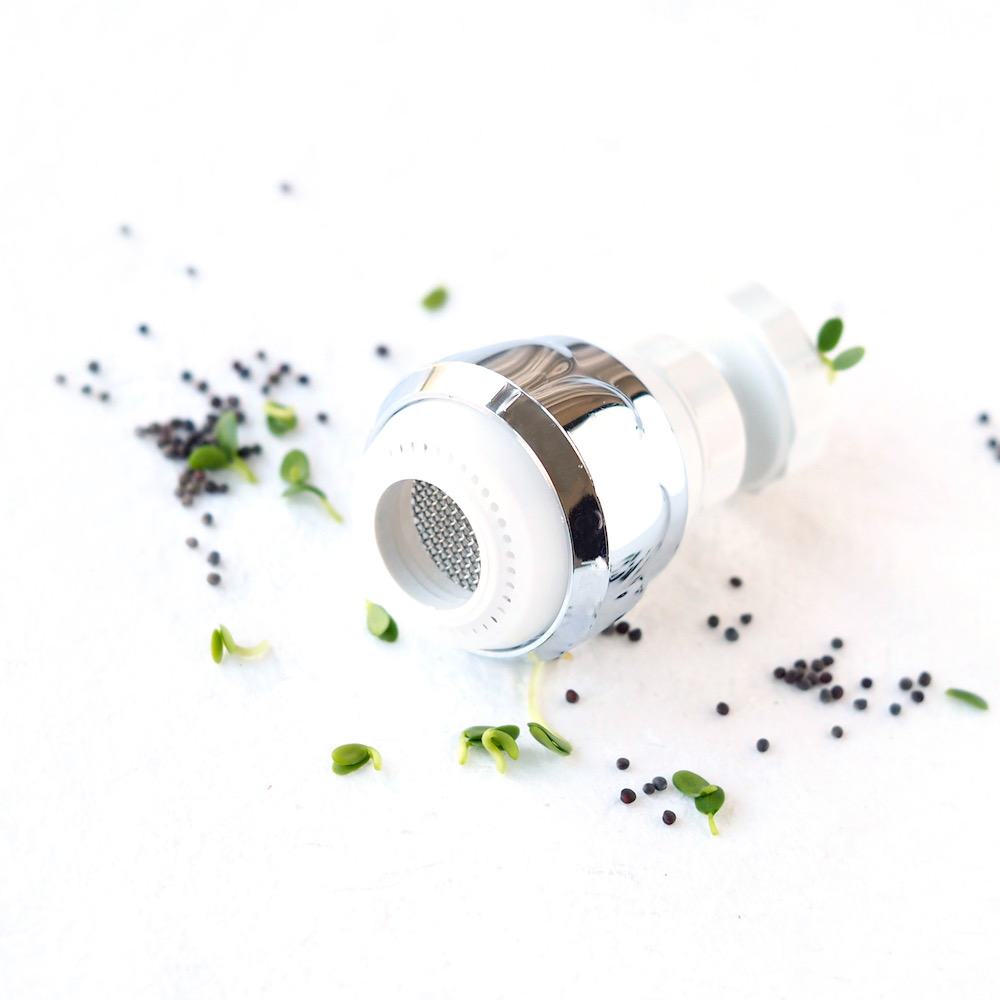 5 RINSING ACCORDING TO TEMPERATURE
Rinsing sprouts and microgreens should be done morning and evening all year round. But what if your kitchen is very cold during winter and very warm during summer?
Then the answer is: Rinse according to temperature.
In a cold kitchen you should still rinse morning and evening. But in a kitchen where the temperature is above 25 ºC / 77 °F you may need to rinse three times a day to keep the sprouts from getting to dry. Or you can place your SproutPearl sprouter in a cooler room.
THE RIGHT MOISTURE BALANCE
Now that you have learned the 5 tips to good rinsing, how do you know if you have done well? The answer is, that your sprouts and microgreens will tell you.
How?
By whether they dry oyt, rot or thrive.
If they dry out or wither, they have been too dry.
If they rot they have been to wet or they have been broken by to harsh rinsing.
If however they thrive, you have done well.
When they thrive your rinsings are well done.
When your rinsing method and the moisture balance has been is optimal, you will see that the plants:
The plants grow steadily
.
The plants smell fresh
 like healthy salad.
The roots are white.

The leaves are fresh and well developed.

The mature plants are crispy in texture.
When you follow the tips above, you can easily achieve the right moisture balance.
PRODUCTS IN THE SHOP