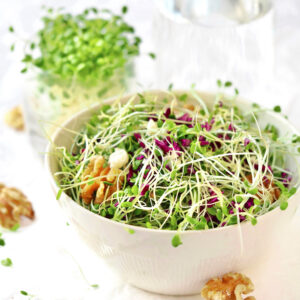 CLOVER SPROUT SALAD WITH RADICCHIO AND WALNUTS
Ingredients
7

g

organic clover seeds

7

half raw walnuts

2

leaves of radicchio salad

1/4

ripe pear

3

tbsp

valnut oil

1

sprinkle grated cheese or yeast flakes

2

drop

fresh lime or lemon juice

1

pinch

pepper

1

pinch

himalaya salt
Instructions
Soak the clover seeds in a glass of clean, cool water for 8 hours. Then grow your Clover Seeds for 6-7 days until they get color in their leaves. Harvest them, rinse them clean in a bowl of water and they are ready to be eaten including roots.

Cut all the ingredients as it suits you. If you want to use the salad as a main course, you can add more lettuce leaves and a little extra pear as needed.

Serve them in a bowl. Mix oil with lime juice, salt and pepper. Serve immediately and enjoy the salad either as a main course or appetizer.
BUY SEEDS FOR THE RECIPE