Sprouter for your homegrown Microgreens and Sprouts.
SproutPearl Sprouter is created for all varieties of sprouting seeds.
It is produced in Denmark and free of BPA, color and phthalates.
Sprouter for Sprouts & Microgreens
The SproutPearl sprouter by the Danish FRESH SPROUTS has been created for your own cultivation of Sprouts and Microgreens.
In the SproutPearl you can grow more than 30 varieties of organic sprout seeds for crispy plants for your food.
Also, in this sprouter your plants grow without soil or hemp mat – this gives you an inexpensive, clean and hygienic cultivation.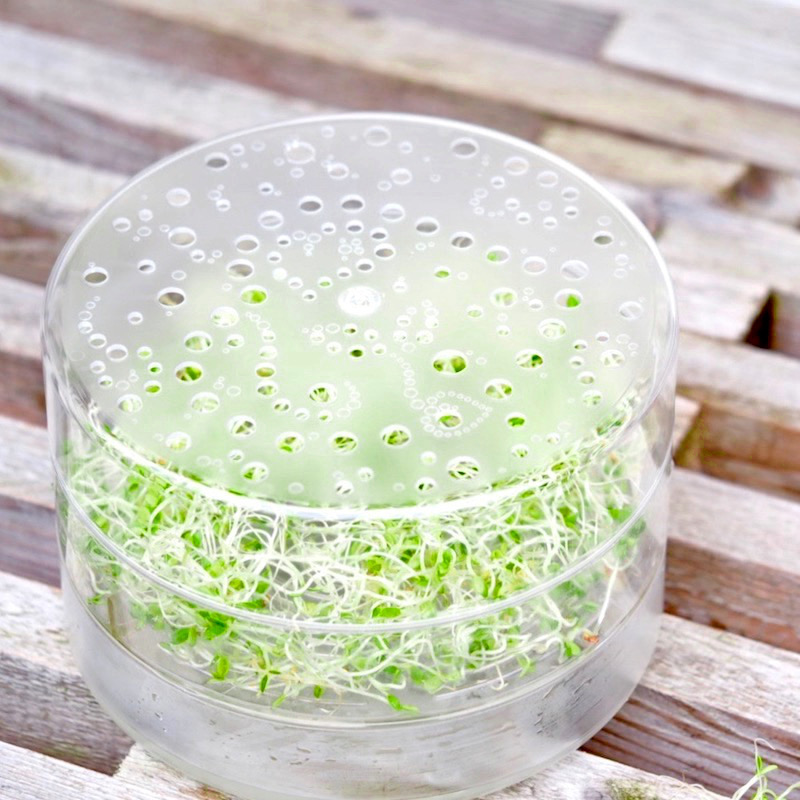 Food grade + Non BPA
The SproutPearl is manufactured in Denmark from EU food grade certified plastic.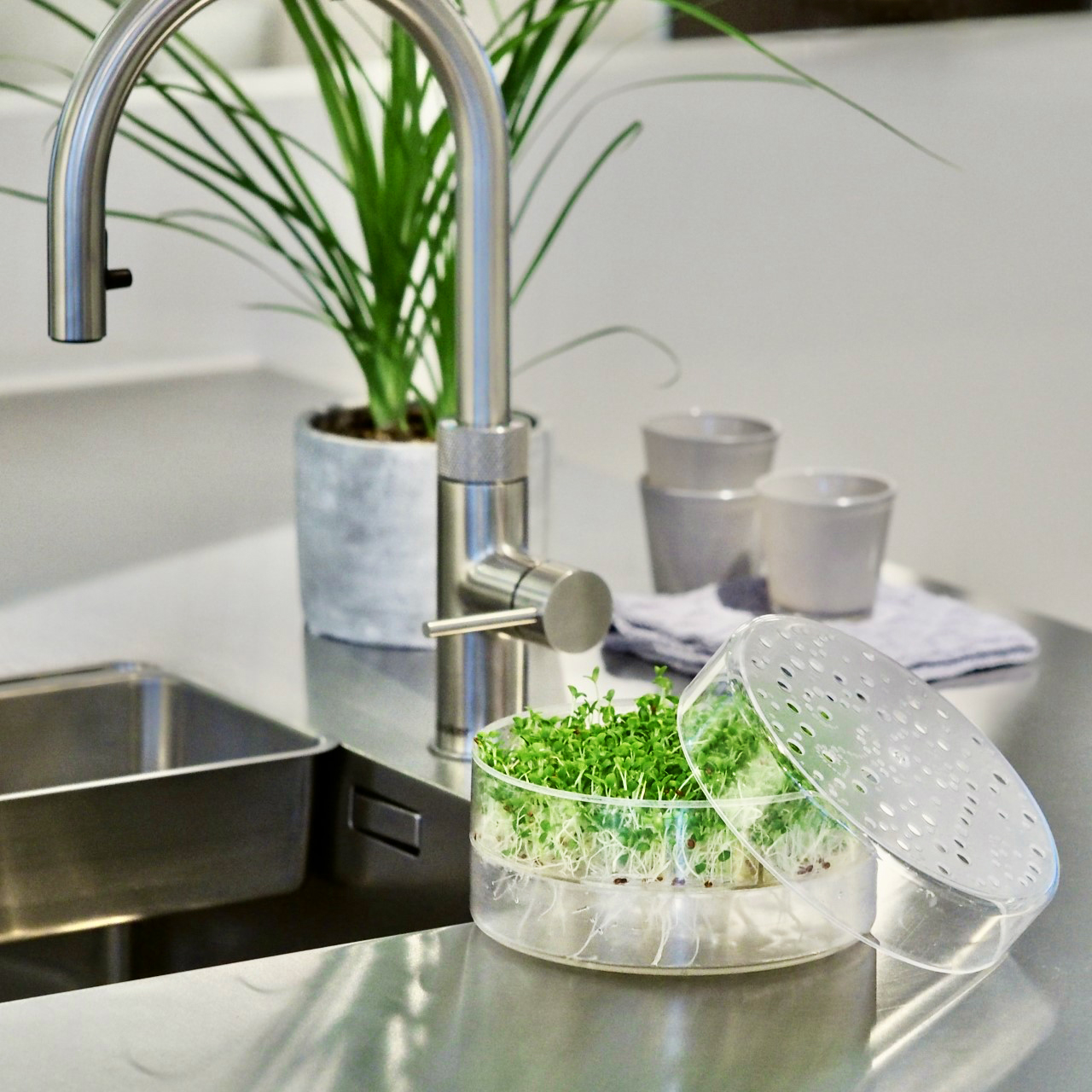 Transparent
The SproutPearl is transparent, so you can enjoy the look of your sprouts growing.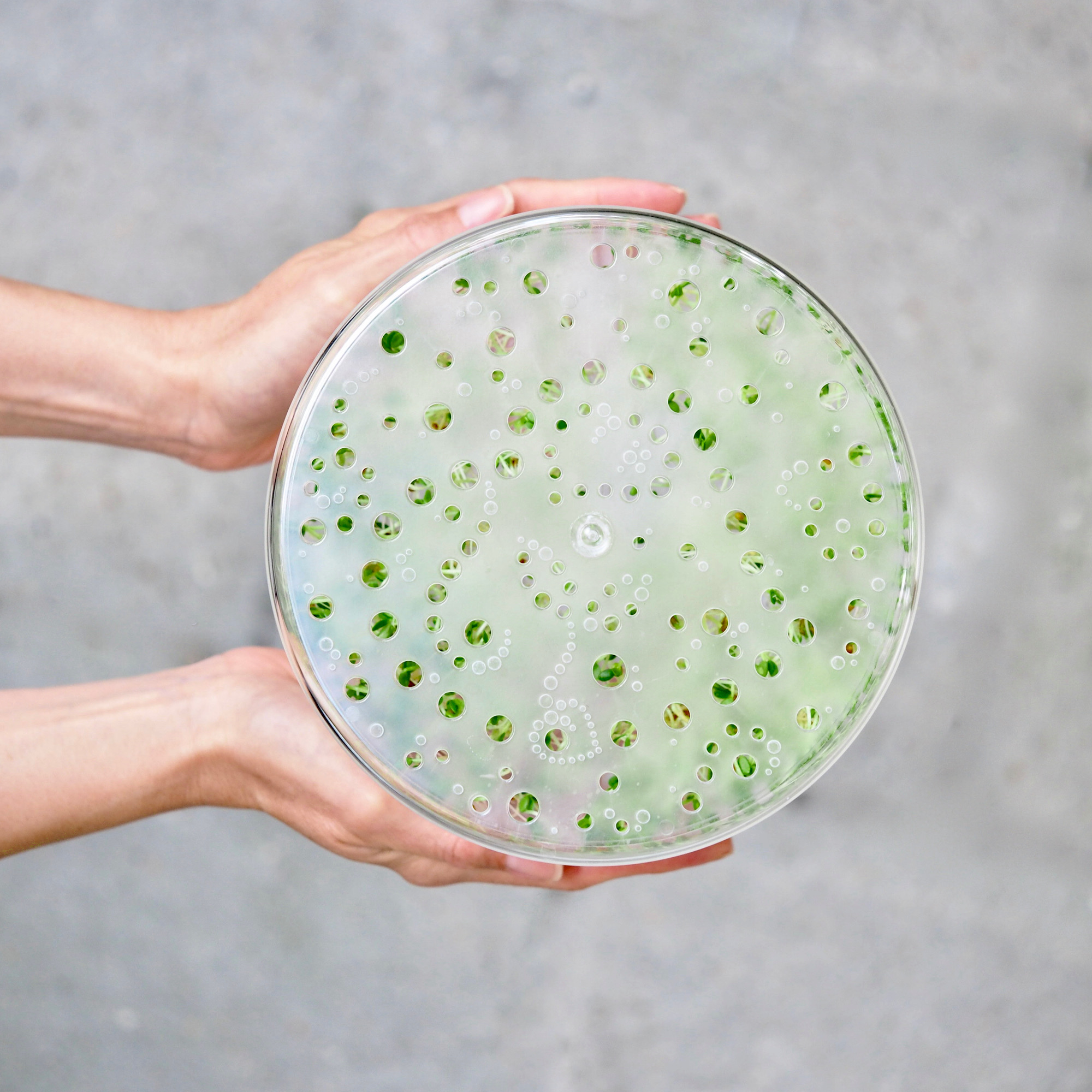 Light in weight
The sproutPearl is made from plast and is thus light in weight, so even children can handle this sprouter.
Sprouter without Phthalates
SproutPearl sprouter is made in Denmark from food approved plastic, free of BPA and phthalates.
Despite that, it can stay beautiful for many years.
You simply need to wash it by hand with environmentally friendly dishwashing detergent and a soft sponge.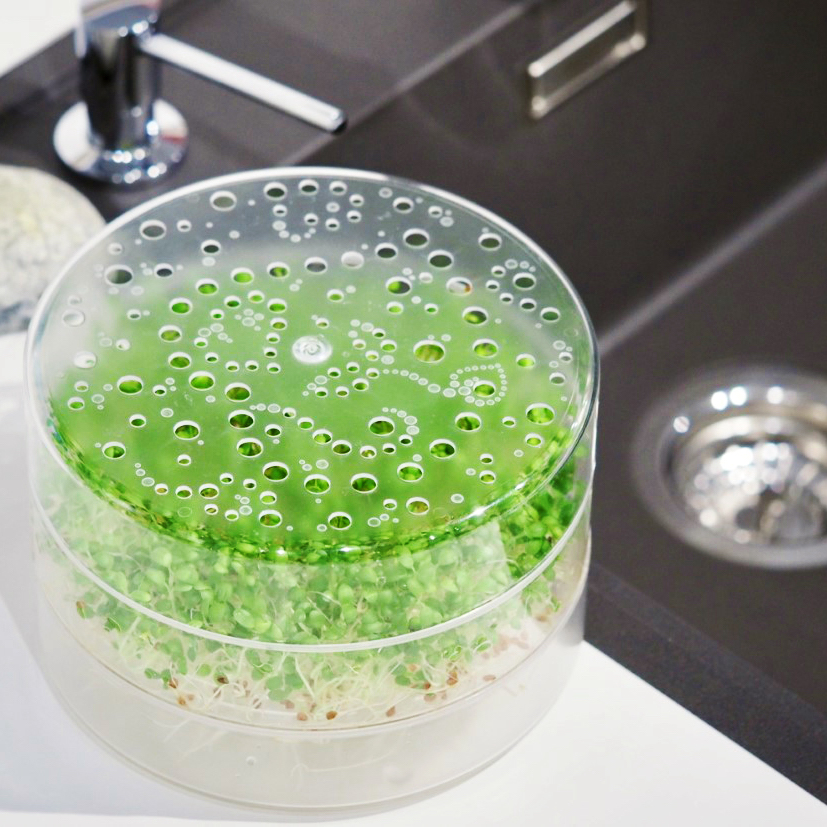 Small Sprouter
SproutPearl is 18 cm / 7.08 in in diameter. Each tray is 4 cm / 1.6 in high. So it can fit in any kitchen.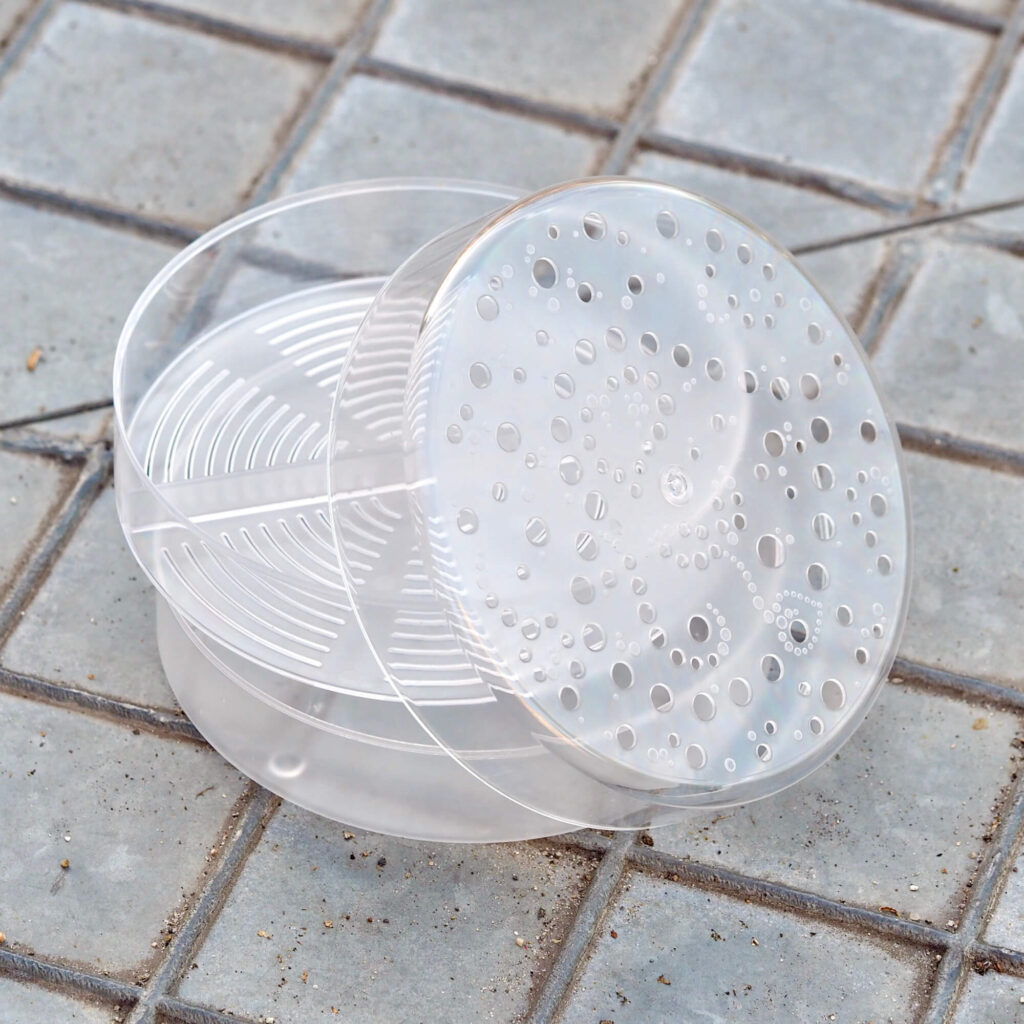 Easy to Clean
SproutPearl is smooth on all surfaces. So cleaning by hand with dish soap and a soft sponge is easy.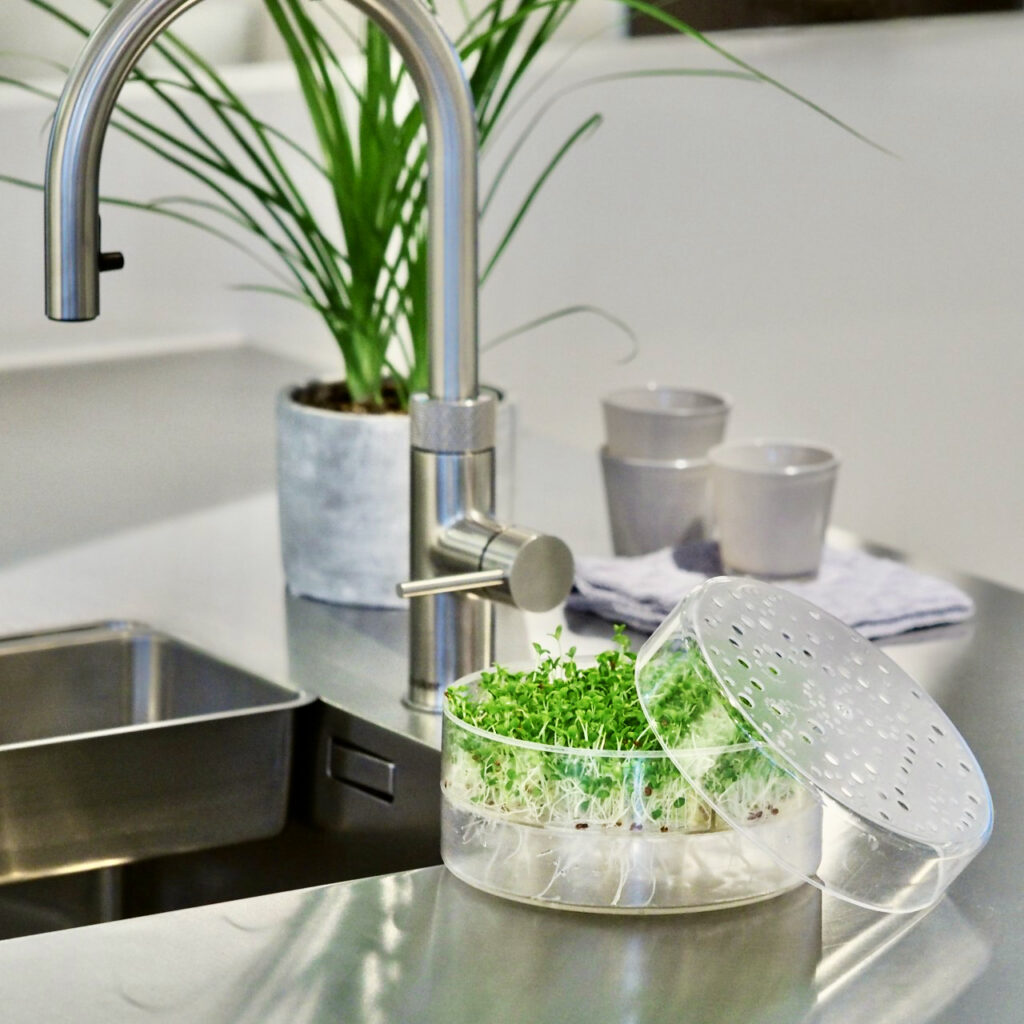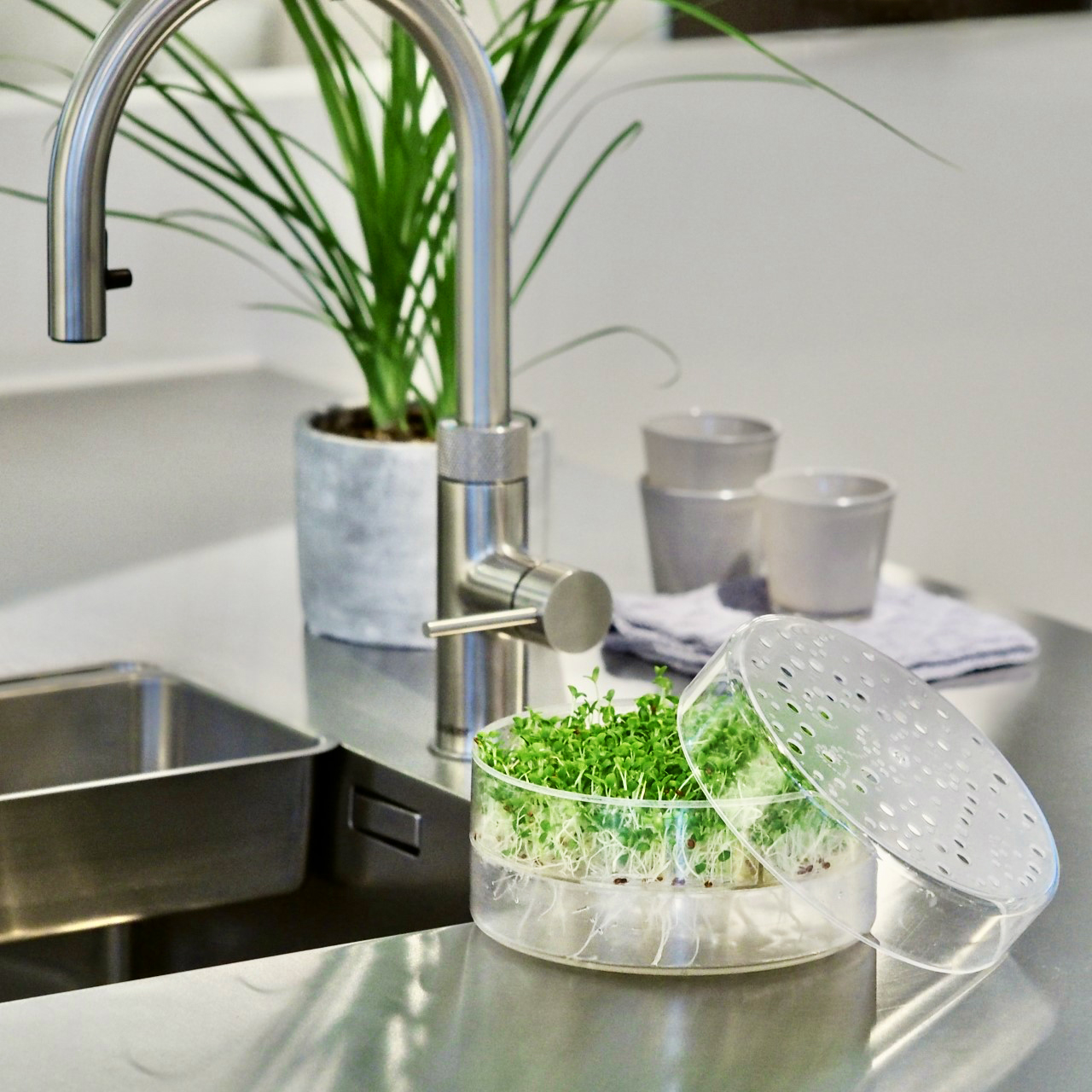 An Elegant Sprouter
SproutPearl Sprouter is designed to match the elegance and lightness of your sprouts.
Danish Design Sprouter
SproutPearl sprouter is designed by the Danish company FRISKE SPIRER.
The sprouter is created in the light design style, that we are known for here in Scandinavia.
The production and sale is done in Denmark close to Copenhagen.
So this sprouter is a 100% Danish product.
Sprouter in several Layers
It can be useful with a sprouter, thay you can expand with several layers.
Therefore you can buy the SproutPearl sprouter with 1, 2 or 3 seed trays.
You can also start with 1 seed tray and later buy extra trays.
You can build up to 5 seed trays into the same sprouter. This principle saves you space on the kitchen table… and provide lots of Sprouts.
Buy a SproutPearl Sprouter
FAQ about the SproutPearl Sprouter
What is a SproutPearl sprouter?
It is a container for growing your own Sprouts and Microgreens in your Kitchen from organic seeds. The SproutPearl sprouter is designed by FRESH SPROUTS.
Can you use a SproutPearl sprouter several times?
Yes, this sprouter is created to be used for growing sprouts for many years in your own kitchen. It is produced in Denmark from food-proof plast without BPA or colour.
How big is a SproutPearl?
The SproutPearl sprouter i 18 cm in diameter and each tray is 4 cm high. You can cultivate 4-6 handfuls of sprouts in each seed tray. You can use up to five seed trays / layers in the sprouter at the same time.