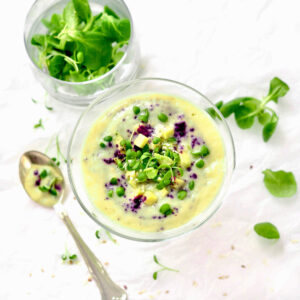 CLOVER SPROUT SMOOTHIE WITH OMEGA 3
Ingredients
7

g

White clover or Red clover sprout seeds

1

tsp

organic sesame seeds

1

cup

rice milk

1

tbsp

rice protein powder

3

blueberries or freeze-dried blueberry powder
Instructions
Soak your Clover sprouting seeds for 8 hours in a clean glass of water. After 8 hours pour the seeds into your SproutPearl sprouter. The sprouts should grow until they have formed green leaves. This takes 5-6 days from dry seed to ripe sprouts. When you harvest the ripe sprouts, you can rinse them free of seed capsules in a bowl of water. Now they are ready for your smoothie

Pour the sesame seeds into a cup and fill it with boiling water. Leave the sesame seeds in the water for 15 minutes. It neutralizes the seeds' anti-nutrients. You can also soak the sesame seeds in cold water for an hour instead. Regardless of your chosen method, pour the water from the end and then they are ready for your smoothie.

Mix all the ingredients in the blender and blend until the consistency is as you want it. You can sprinkle a little of the blueberry powder in at the end if you want a more visually elegant variant.
BUY SEEDS FOR THE RECIPE