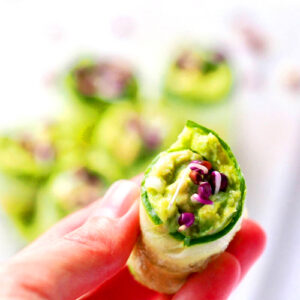 Cucumber Rolls with Alfalfa and Radish Sprouts
Ingredients
5

g

alfalfa sprouting seeds

3

g

radish sprouting seeds

1

organic cucumber

1/2

clove organic garlic

1

ripe avocado

lemon juice

salt and pepper
Instructions
Grow the alfalfa and radish seeds into sprouts in 6-7 days. Both sprout types are ready when they have unfolded their leaves and the leaves have developed colour. Harvest the sprouts and rinse them in cold water until the empty husks are rinsed away and they are ready for the food.

Mash the avocado, garlic, spices and lemon juice.

Cut the wild roots from the radish sprouts and shop them very fine. Mix them in the avocado mixture.

Slice cucumber slices and cut them into 10 cm in length. Put the avocado mixture and sprouts on the cucumber and roll the cucumber into rolls.

Decorate with a few sprout tops and serve.
BUY ORGANIC SEEDS FOR THE RECIPE