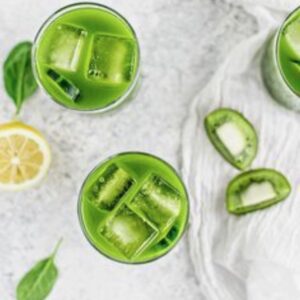 Green Juice with Pea Sprouts and Pea Shoots
Ingredients
50

g

Peas for sprouting

10

Peas for Pea Shoots

20

g

organic ginger

2

organic apples

10

g

cm organic cucumber
Instructions
Soak the Peas for sprouts for 8 hours and let them grow in a sprouter of your choice. The pea sprouts should grow until the white root is 1 cm long. This takes about 2 days. If you also want to have some Pea shoots for decoration or snack, you can grow 10 gram peas more. These peas are the same variety as the other peas but they need to grow for 14 days to grow a stem with leaves.

When the sprouts are done, rinse all the ingredients and put them in your juicer, but save a few pea shoots for decoration.

Drink at once to benefit from the many antioxidants and vitamins in this juice.
BUY ORGANIC PEAS FOR THE RECIPE