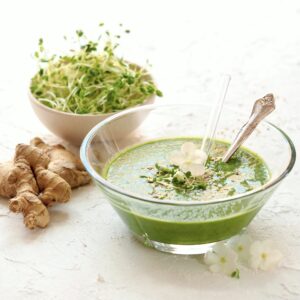 Ginger and Alfalfa Sprout Smoothie
Ingredients
7

g

organic Alfalfa seeds for Sprouts

5

g

fresh organic ginger

2

cup

fresh, raw spinach

1

fresh pink grape fruit

1/2

banana OR 1 fresh date

1

cup

rice milk

1

tbsp

sesame seeds
Instructions
Soak the Alfalfa sprout seeds for 8 hours in clean, cool water. Cultivate the seeds for 6 days until they unfold the leaves and the leaves are green. Harvest them with roots and rinse the seed hulls away in a big bowl of cool water. You use the whole plant from root tip to leaf top.

Soak the sesame seeds in cool water for one hour before you make the smoothie to neutralize their antinutrients. This is an important step, so you can take in their vitamins and minerals.

Add all the sprouts minus a few for garnish and all the ingredients to the blender. Blend until the consistency is as you wish.

Pour into a bowl, garnish with sesame seeds, sprouts and maybe an edible flower. It is ready to serve.

TIP You can replace the Alfalfa seeds with Red clover or Crimson clover as the three varieties are very similar in taste and looks.
BUY SEEDS FOR THE RECIPE