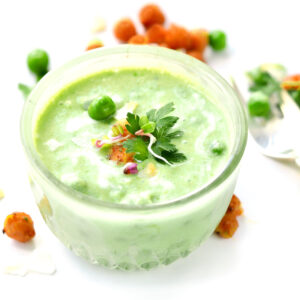 PEA SOUP WITH FRESH SPROUTS
Ingredients
70

g

dry peas for sprouts (turns into 100 grams sprouts)

½

small onion

1

large clove of garlic

½

canned pre-cooked chickpeas in water

300

ml vegetable broth

1

stalk of parsley

2

stalks coriander

1

tsp

fresh lemon juice

salt and pepper

fresh water as needed

1

tbsp

whole fat coconut milk for decoration
Instructions
Soak the peas for sprouts for 8 hours in clean water. Then grow them in a SproutPearl or other sprouter for 2-3 days, until the white root is 1 cm long. Rinse the sprouts thoroughly and they are ready for the dish. You do not need to remove the clear seed capsule. It is full of plant fibers and contributes to your satiety.

Rinse the chickpeas from the can thoroughly under the cold tap until the water no longer foams. Pour half of the can into the blender, but wait to blend. If you want an extra spicy and filling soup, you can take 10 chickpeas aside and fry them on the pan with salt and pepper until lightly golden. You use the fried chickpeas for decoration. You can also use a few pea sprouts for that instead.

Finely chop the onions and herbs and store them in a bowl. Pour the pea sprouts, vegetable broth and half of the sliced onions and herbs into the blender with the chickpeas. Blend until the consistency is as desired. If necessary, add extra water as needed.

Pour the blended mass into a saucepan, add the rest of the chopped onions and herbs. Bring the pan to a boil and immediately turn it down again so that the soup only just simmers. Add salt and pepper as needed. You can also add extra herbs if you miss more flavor.

Pour the soup into a bowl and garnish with pea sprouts, fried chickpeas, herbs and coconut milk. If you have a single radish sprout or red onion, you can also use it as a garnish for a beautiful color.
BUY SEEDS FOR THE RECIPE