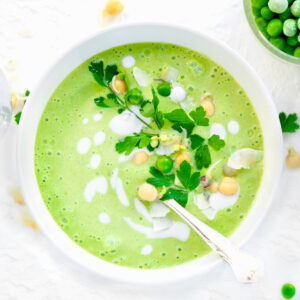 THAI SOUP WITH SPROUTS
Ingredients
30

g

organic chickpea for sprouts

5

cup

frozen peas or 6 cups pea sprouts with 1 cm root

1

small garlic clove

1

fresh red onion

1

tbsp

thai green curry paste

400

ml

full fat coconut milk

400

ml

water

1

fresh lime

2

stalks fresh coriander

5

dried coconut flakes

salt and peber to taste
Instructions
Thai soup with sprouts is delicious and fresh for lunch or dinner. The amount fits two people. You can use either frozen peas or fresh pea sprouts for the dish. Or half / half, if you prefer this.

First, soak your organic chickpeas for 12 hours in a clean glass of water. Then grow them in your SproutPearl sprouter for 3-4 days or until the white roots are 2 cm long. Rinse gently so that the sprouts do not split during cultivation. Harvest by placing them in a bowl of clean water and rinsing with cold water. Drizzle off and your sprouts are ready.

If you replace some or all of the frozen peas with pea sprouts, then the organic peas for sprouts should be soaked for 8 hours. Following the soaking, grow the peas in your SproutPearl sprouter for 2 days or until the white roots are 1/2 to 1 cm long. Harvest and rinse just like the chickpea sprouts.

Finely chop the red onions and fry them over medium heat in a pan or wok with a little oil. Add the crushed garlic clove after a few minutes and then also the chickpea sprouts. Continue to cook for 2 minutes.

Add green curry paste, coconut milk and water. Let it simmer without boiling and let it sit at that temperature for 5 minutes. Pour it all into a blender, add the sprouted and / or thawed peas and run the blender until the soup is smooth.

Pour the soup into the pot or wok again. Season with salt and pepper, lime juice and a little more curry if necessary. Heat the dish to the desired temperature without it boiling. The limited heat is to preserve antioxidants, amino acids and vitamins from the sprouts. If you find that the soup has become too spicy, you can add some extra coconut milk.

Pour the hot soup into bowls, garnish with fresh green chili, cilantro, coconut flakes and whipped coconut milk or vegan cream. Add a few sprouts at the end and the dish is ready to serve.
BUY SEEDS FOR THE RECIPE