MIZUNA SPROUTS
Mizuna · Brassica juncea var. japonica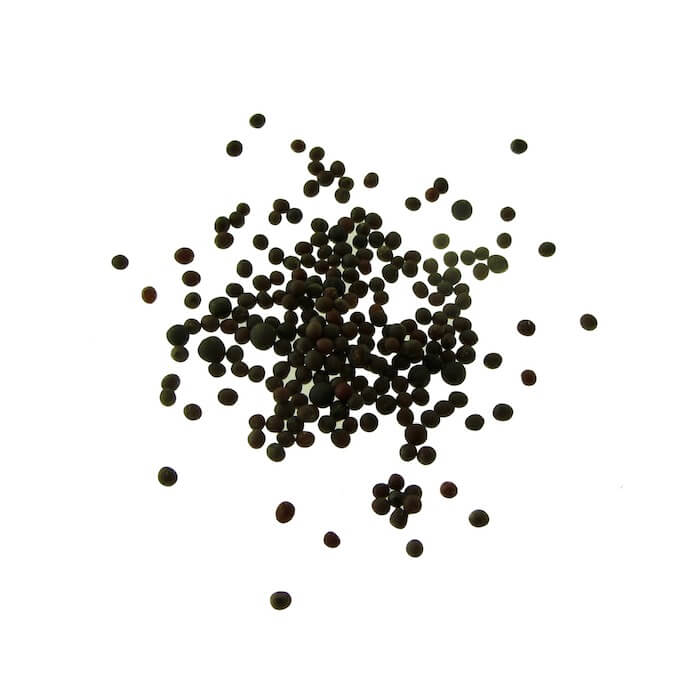 MIZUNA
DRY SEEDS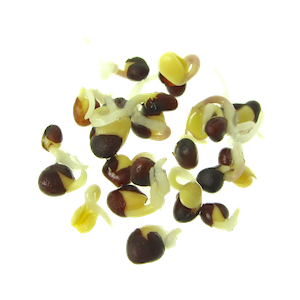 MIZUNA
3 DAYS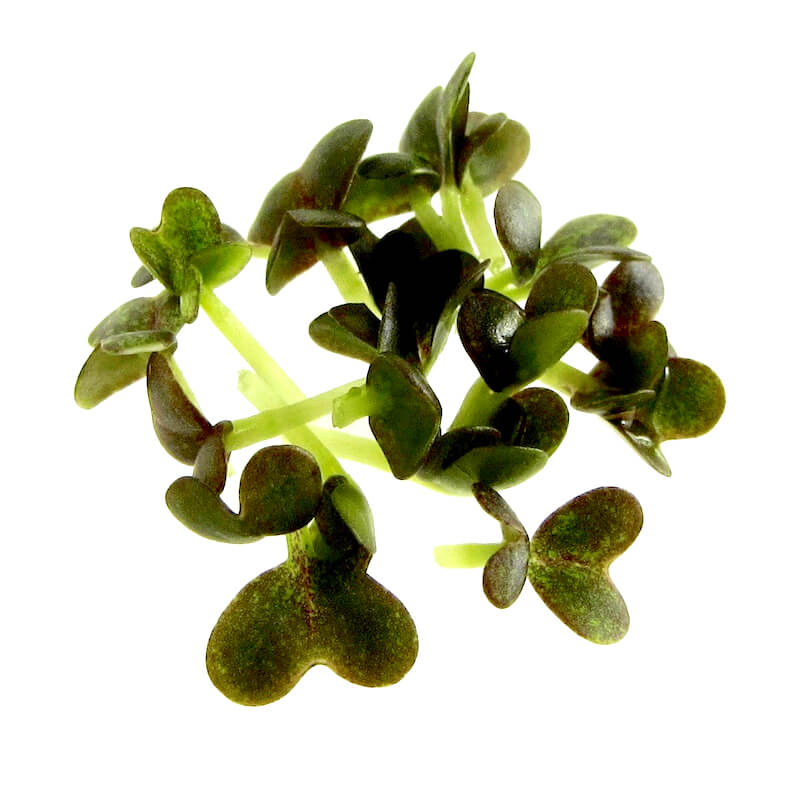 MIZUNA
6 DAYS
MUZUNA SPROUTS
TASTE  •  EDIBLE PARTS
Mizuna has a wonderfully strong taste of mustard and pepper. The taste becomes more round and full when the sprout has been allowed to stand with unfolded leaves in a light spot for a few days. The taste of Mizunas is as exciting as the colors of this little, elegant plant.
Mizuna sprouts are eaten raw. There is no point in eating them, when they have not folded out their leaves yet, as the primary taste and colour is in the leaves. When the leaves are folded out, the leaves will soon turn from yellow into beautiful violet green colors. You can eat the whole sprout including roots.
NUTRIENTS
VITAMINS
A, B, C, E, K
MINERALS
Potassium, Iron, Calcium, Magnesium, Zinc, Phosphorus
PROTEIN
2% – measured in relation to sprouts consisting of 75% water
SIZE • LOOKS
Mizuna sprouts grow from quite small seeds, but the sprout is 12 cm high. The root itself is 10 cm long, so all in all, you get 22 cm of a small seed that is just 0.8 mm in diameter. Nature is really amazing, right?! You will probably enjoy its fragile beauty. This sprout is light green in the stem. The green colors are mixed up with deep violet in the top stem and leaves. A very pretty little plant.
TIPS FOR CULTIVATING MIZUNA SPROUTS
Mizuna has small seeds the size of Broccoli. Some types of Mizuna are gelling while others do not form gel. This means that you can grow Mizuna on organic cotton or directly in your sprouter. The best type of sprouter for these plants are horisontal as the sprouts may have difficulty growing well in a sprout jar. This is because the small seeds cling together and can be covered with water in the glass. A SproutPearl or Easy Sprout Sprouter will work well for this plant.
MIZUNA SPROUTS IN RECIPES
Sprouted Mizuna is most elegant when you use them raw in the food. When you eat them raw, you enjoy both their crispness, their delicious taste and many nutrients.
With their powerful taste of mustard and pepper, Mizuna sprouts are best suited for decoration or extra spice in salads and dips. I use my Mizuna sprouts in recipes, which already include mustard and pepper.
Other sprouts, which go particularly well with Mizuna sprouts, are Mustard sprouts, and the more neutral Clover or Alfalfa.