Organic Mung beans for Sprouts
Organic Mung beans for Sprouts by the Latin name of Vigna Radiata.
Home grown Mung beans are fun to cultivate in your own kitchen all year. Mung beans grow into delicious protein-rich sprouts in just 2-4 days. You sprout your lentils in your SproutPearl sprouter, until the white root is 0,5-1 cm long.
Their taste is like freshly boiled Mung beans. They are delicious in bean hummus, salads, spreads, stews etc. This is a great beginner sprout for both children and adults.
160 gr seeds provide 10 handfuls of fresh Mung beans edible sprouts.
Sprouting Time for Mung beans
If your kitchen temperature is 18-23 °C / 64-73 °F, then your Mung bean Sprouts should be ready for harvest after just 2-4 days of cultivation.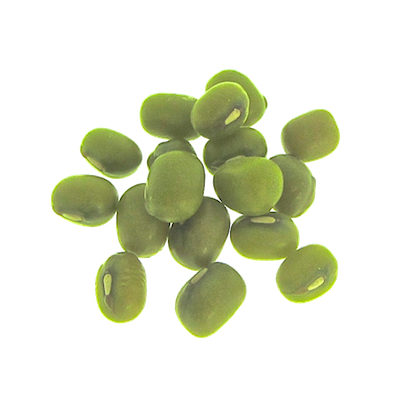 Organic Mung beans
before soaking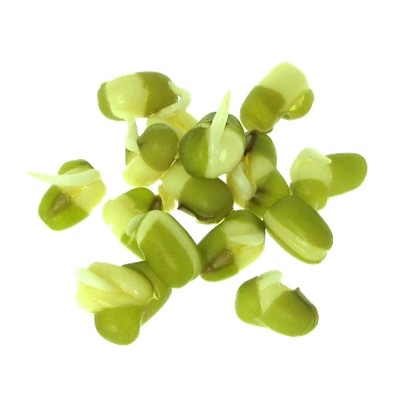 Organic Mung bean Sprouts
after 1 day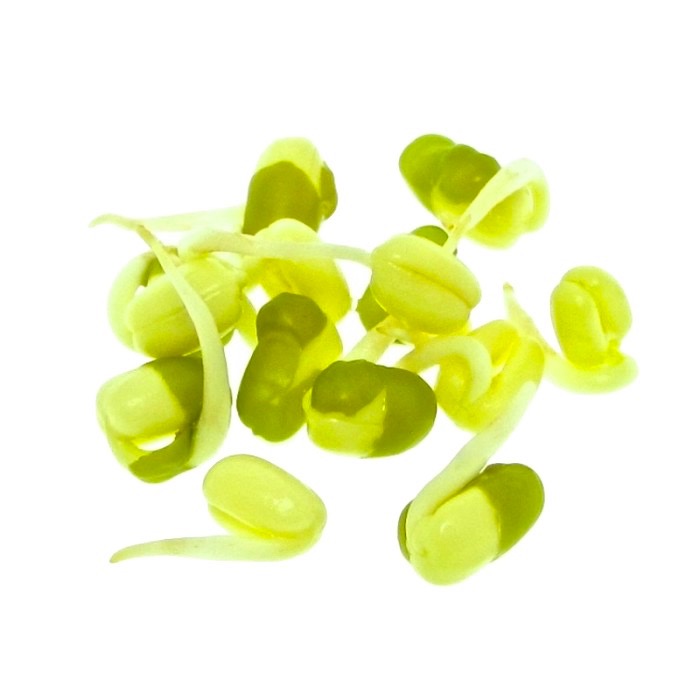 Organic Mung bean Sprouts
after 3 days
Organic Mung beans Sprouts
You should only cultivate your organic Mung beans to Sprouts with 1,5-2 cm long white root – not till they form green leaves.
NAMES
Mung beans for sprouts belong to the latin family Fabaceae. This is a protein-rich  legumes and go by the latin name of Vigna radiata.
TASTE
Mung bean sprouts have a round taste like hazel nuts with a hint of green salad. The taste is softer when you make sure the sprouts do not dry out.
LOOKS
Mung beans is an easy sprout. As a mature sprout the white root should be just 1,5-2 cm long. This sprout is not eaten with green leaves.
NUTRIENTS
Mungbean sprouts contain the nutrients: B2, B3, B5, B6, C, K + Calcium, Iron, Potassium, Phosphorus, Magnesium, Manganese, Copper, Sodium.
EDIBLE PARTS
You can eat the whole mung bean as a sprout inkl its white roots and the thin green hulls. If you choose to discard the empty hull, they are 100% biodegradable.
TIME
Mung bean sprouts take 3-4 days from dry seed to edible sprout. It is important, that the root is 1,5-2 cm long for the lechtins are neutrilized, so you may eat the sprouts.
How to grow Organic Mung beans for Sprouts
1
Measure the amount of your organic Mung beans. Each half SproutPearl tray needs 30 gram dry beans.
2
Soak the beans in fresh, cold, drinking water in a clean glass for 12 hours. Place it in shade in your kitchen.
4
Put the seed tray into the SproutPearl and place it on your clean kitchen counter out of hot sun or cold draft.
5
Rinse your bean sprouts and plants every morning and evening until they are at your desired growth stage.
6
Your Mung bean sprouts are mature after 3-4 days or when they have a 1,5-2 cm long, white root.
Tips for Organic Mung bean Sprouts
SOAKING
Mung beans absorb quite much water during soaking, so put the beans in a glass with 1 part dry beans to 4 parts clean, cool drinking water.
The best placement for the glass during soaking is on a clean kitchen table in shade and out of cold draft – the same place as your sprouter.
As the beans slowly absorb water, they turn a lighter shade of green. You can tell if they have soaked long enough in the sound they make when you pour them on a porcelain plate after soaking. Then the sound should be dull like wet nuts.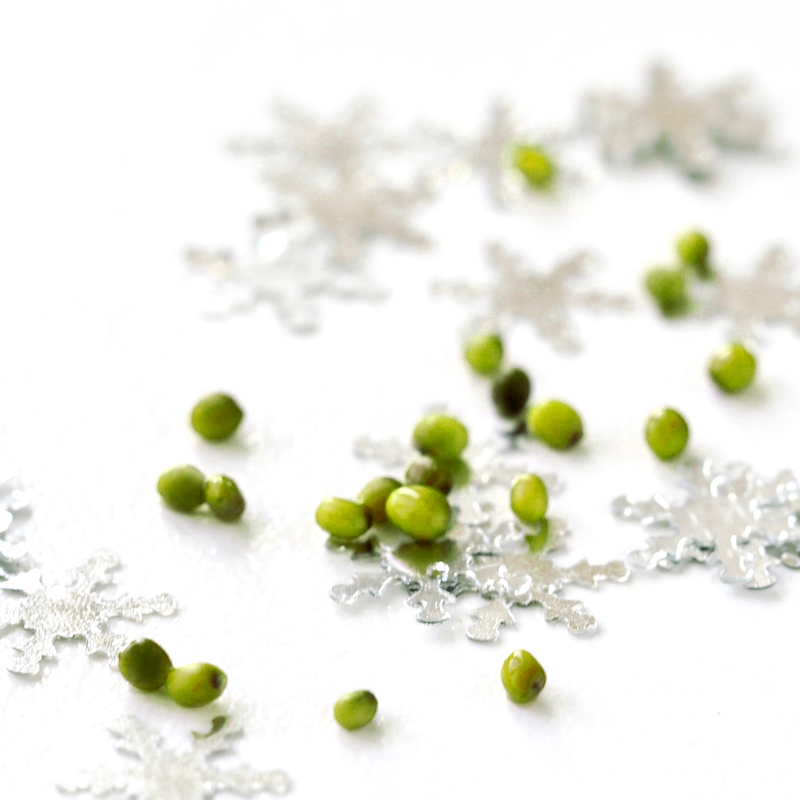 BEFORE EATING
A batch of Mung beans may hide a few unsprouted beans. This is natural but you should always sort your sprouts before eating them.
Why? To remove all unsprouted beans. Do not try to chew them as they are hard as rocks.
If you look closely, you can spot the unsprouted beans already after soaking. They will be the ones thay stay small and dark green even after 12 hours of soaking.
You can try and resoak them longer, but it is safter to dispatch of them.