CHICKPEA SPROUTS
Chickpea sprouts · Pisum sativum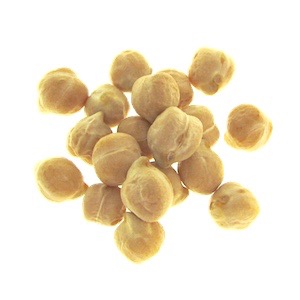 CHICKPEA
DRY SEEDS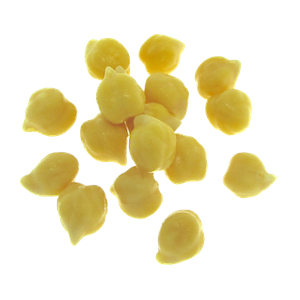 CHICKPEA
1 DAY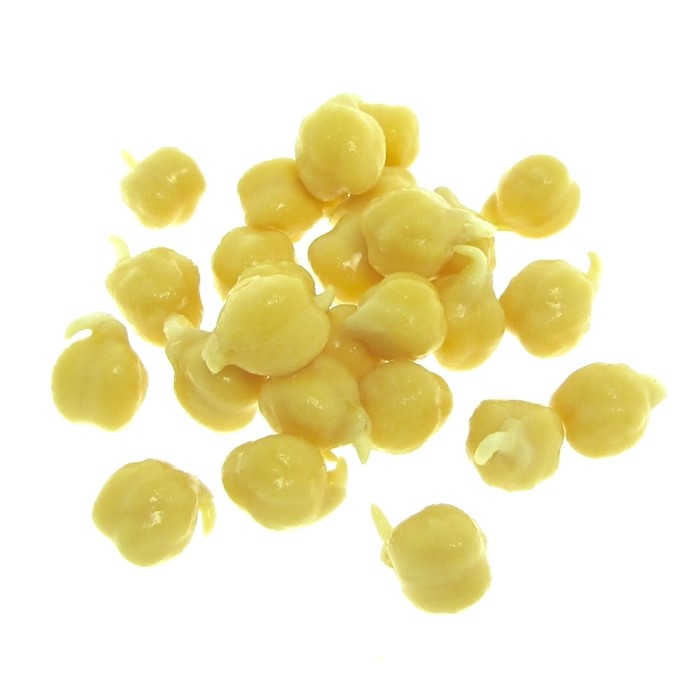 CHICKPEA
4 DAYS
CHICKPEA SPROUTS
TASTE  •  EDIBLE PARTS
Sprouted organic chickpeas taste of lightly cooked, chilled chickpeas. Chickpeas must be grown until the white sprout is at least 1-1.5 cm long because of their natural content of lectins. Chickpeas are not grown until they get leaves.
You can eat the whole Chickpea sprout inkl. the white root. Chickpeas have no seed capsules that fall off during cultivation as you know it from other legumes. Instead, you will notice that the seed capsules on chickpeas will not loosen untill you give the sprout the short boil just before you use them in your food.
NUTRIENTS
VITAMINS
A, B1, B2, B3, B12, C, E, K
MINERALS
Potassium, Iron, Phosphorus
PROTEIN
7% – measured in relation to sprouts consisting of 75% water
SIZE • LOOKS
Chickpeas for sprouts are 1-1.3 cm in diameter when dry. Chickpeas are cultivated only until the little white root is 2-3 cm long. The chickpeas get a sandy/yellow tone when they germinate. A color I find quite nice in green salads mixed with peppers in red and orange tones.
NOTES TO REMEMBER
Chickpeas contain a natural protein digestive blocking substance called trypsin inhibitor. This substance may cause stomach ache if your eat the sprouts raw. Trypsin inhibitors are lowered but not completely neutralized during the sprouting process. Because of this you should give the sprouted chickpeas a short boil for 3-5 minutes just before eating them. The heat will neutrilize the trypsin inhibitors and hardly affect the amino acids and vitamins in the sprouts.
CHICKPEA SPROUTS IN RECIPES
Due to the need of a short boil, chickpea sprouts work well in stews and oven dishes. Just add them the last few minutes before the dish is done. These sprouts are also delicious in fresh salads when chilled after the boil.
Hummus with sprouted chickpeas is an interesting variant of the famous recipe. A big plus of using sprouted and lightly cooked chickpeas instead of using chickpeas that are only cooked is that you get far more vitamins, proteins and antioxidants from the almost raw sprouts.


FIND YOUR SEEDS IN THE SHOP