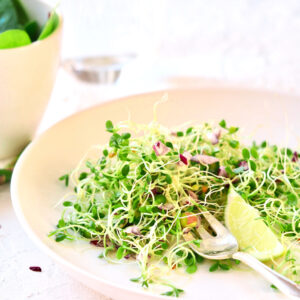 Crimson Clover Sprout Salad
Ingredients
14

g

organic Clover seeds for sprouts

3

g

organic Radish seeds for sprouts

4

fresh asparagus

1/2

cup

soy cream

1

cup

fresh spinach leaves

1/2

mature avocado

1/4

fresh lime

salt and pepper
Instructions
To make the Clover sprout salad you need to start growing the sprouts 6 days before you make the dish.

First soak your Clover sprouting seeds and the Radish sprouting seeds in separate glasses with cool water for 8 hours. After 8 hours, pour the seeds into your SproutPearl sprouter and grow them in each half of the SproutPearl tray. The sprouts should grow until their leaves get colors. This takes 5-6 days from seed to mature sprouts. Rinse the sprouts free of seed capsules by putting them in a bowl of water. Change the water several times. Now they are ready for your dish.

Rinse the fresh spinach leaves in a bowl of water. There is always sand on spinach, so move the leaves around in the water for 10 minutes. This will release the sand. Drain the water and the leaves are ready for your recipe.

Cut the half avocados into cubes and mix them with sprouts and spinach in a bowl.

Crack the asparagus stalk and use the top part. The lower part is more chewy but delicious in pot dishes, so save it for other dishes. Cut the top of your asparagus into thin slices for the recipe here.

Turn the pan on medium heat with the soy cream and place the asparagus slices on the pan when the cream is hot. Add salt and pepper. Stir gently until the cream just bubbles slightly and your asparagus are warm.

Pour the asparagus slices and cream over the salad. Serve with the quarter lime, which you can squeeze as you like on the salad. Garnish with the rose radish sprouts and the dish is ready to serve.
BUY SEEDS FOR THE RECIPE