ENDIVE SPROUTS
Endive · Cichorium endivia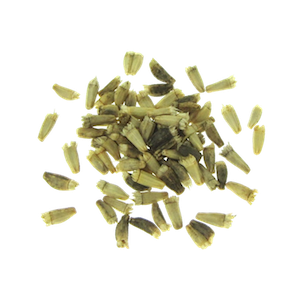 ENDIVE
DRY SEEDS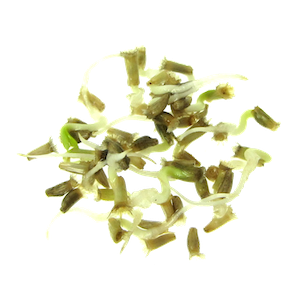 ENDIVE
3 DAYS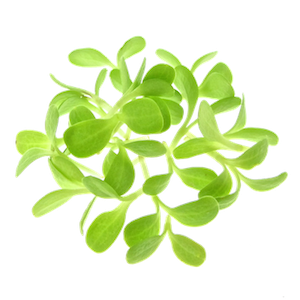 ENDIVE
8 DAYS
ENDIVE SPROUTS
TASTE  •  EDIBLE PARTS
Endive sprouts are bitter in taste like the fully grown endive salad you will find in supermarkets. As sprouts the taste is just a little more intense. The intensity match very well with their size as Endive sprouts are quite small and elegant. Endive form a nice little sprout with thin leaves.
You can eat the whole sprout. Only the hull need to be rinsed away just before you eat them as the hulls as are hard and dull tasting.
The sprouts throw the hulls themselves when they unfold their leaves after 6-8 days. The empty hulls are easy to rinse out at the last rinse of the sprouts if you just place them in a large bowl of water.
NUTRIENTS
VITAMINS
A, B1, B3, B5, B6, B9, C, E, K
MINERALS
Potassium, Iron, Calcium, Copper, Zinc, Magnesium, Phosphorus, Selenium, Sodium
PROTEIN
4% – measured in relation to sprouts consisting of 75% water
SIZE • LOOKS
Endive seeds are light brown and 2 mm long. They seem to dry, even when they have been soaked for 8 hours and the seeds do not visibly swell up as other sprouting seeds.
The small white sprout does not appear untill 3-4 days after you have started the cultivation, so be patient with the little ones. Fully grown they are 10 cm including the small thin white roots. The leaves and the upper stemis delicate light green with dark green veins.
ENDIVE SPROUTS IN RECIPES
Despite the small size Endive sprouts carry a fine taste in a raw salad. If I want a more penetrating bitter taste, I find Endive sprouts go well with rocket/arugula salad.
I often use my Endive sprouts in appetizere and as decor in beautiful salads. Their delicate appearance goes well with orange colors or other dishes where their green tones can stand up against the red or orange scale.

FIND YOUR SEEDS IN OUR SHOP