RAPE SPROUTS
Rape · Brassica napus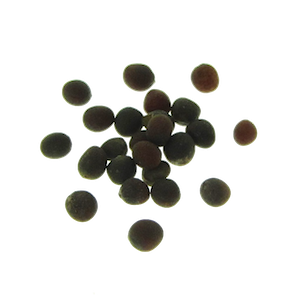 RAPE
DRY SEEDS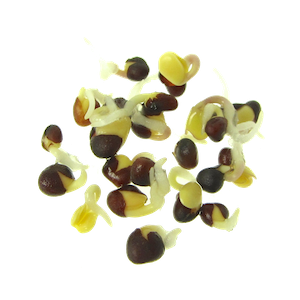 RAPE
3 DAYS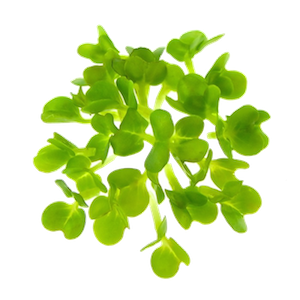 RAPE
6 DAYS
RAPE SPROUTS
TASTE  •  EDIBLE PARTS
Rape sprouts have a taste that is very reminiscent of rocket (arugula) salad, but the taste is more round in my opinion.
If you find your rape sprouts are a little too strong, in their flavour, you can let them grow a day more after they have unfolded their leaves before you harvest them. At that time, the sugars in the plant have had time to convert, so the taste is milder.
Rape sprouts are botanically the sister of broccoli sprouts. Therefore the two plants look similar and contain almost the same nutrients.
They also both have root hairs. These are small extra roots that grow from the main root. Root hair look similar to white mold or candy floss. Root hairs are completely natural, full of fiber and just as edible as the rest of the sprout.
NUTRIENTS
VITAMINS
A, B, C, E, K
MINERALS
Potassium, Iron, Calcium, Magnesium, Zinc, Phosphorus
BONUS SUBSTANCES
Glucosinolates (GLS) and isothiocyanates (ITC)
PROTEIN
2% – measured in relation to sprouts consisting of 75% water
SIZE • LOOKS
Rape seed are available in several sizes. You will learn that seeds of low quality are so small that they will typically fall through the holes in your sprouter, so I recommend you choose your seed supplier carefully.
Rape sprouts are grown till they unfold their first set of small heart-shaped leaves. The sprouts are about 10 cm tall without roots. The roots are 5-6 cm long. If the leaves lack color, you can place your sprouter in a slightly lighter spot but NOT in direct sunlight. After a day in the light the leaves have developed lots of chlorophyll and become dark green.
RAPE SPROUTS IN RECIPES
Rape sprouts are mostly enjoyed for their taste and for their many nutrients. You only get the full advantage of the many nutrients when you eat rape sprouts raw, as vitamins and antioxidants are heat-sensitive. Fortunately raw rape sprouts have a delicious rocket-like taste. I often use my rape sprouts in raw salads or as a garnish on other dishes.
I also like to eat the dense, white roots, because they are full of nutrients and fiber. Often I blend the roots with carrots and tomatoes into dips.
You can also blend the roots into smoothies and only use the stems and leaf in salads, but of course the use is completely up to you.
FIND YOUR SEEDS IN OUR SHOP