WHITE CLOVER SPROUTS
White clover · Trifolium pratense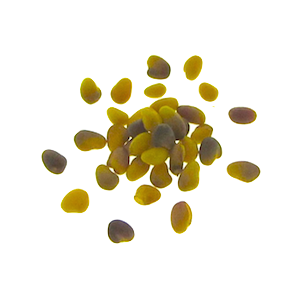 WHITE CLOVER
DRY SEEDS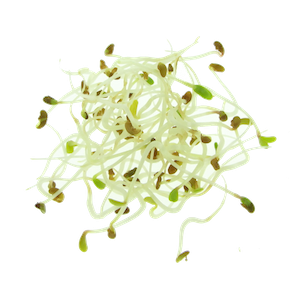 WHITE CLOVER
3 DAYS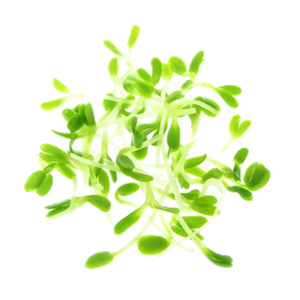 WHITE CLOVER
6 DAYS
WHITE CLOVER SPROUTS
TASTE • EDIBLE PARTS
White clover sprouts look a lot like its sister, Red clover, but White clover sprouts are bigger and have thicker leaves than Red clover.
The taste of White clover is like a very mild version of rocket salad. If you place the sprouts a little lighter, thy will get a milder taste.
You will notice that White clover grow a long slender root as you may know from its cousin, Alfalfa. This makes the whole sprout very beautiful in any dish.
You can eat the whole sprout from root tip to the top of their little green leaves. You could also eat the empty hulls, but they have a slightly bitter taste. If you wish to get rid of the hulls, the easiest way is to put the harvested sprouts in a big bowl of cold water and change the water several times. The hulls will then losen from the sprouts and the sprouts will be ice and clean for your food.
NUTRIENTS
VITAMINS
A, B3, C, K
MINERALS
Potassium, Iron, Calcium, Copper,
Magnesium, Zinc, Phosphorus, Manganese
PROTEIN
3% measured in relation to sprouts consisting of 75% water.
SIZE • LOOKS
White clover sprouts are thicker and bigger than both Red clover and Alfalfa even though White clover loks like the two in shape and colour. Their stems and roots are white and the small leaves are green. They will grow to be 12 cm long without roots and 20 cm including the roots.
WHITE CLOVER SPROUTS IN RECIPES
I like to use Red clover sprouts in smoothies and White clover sprouts in salads and smoothies. I make this difference as there is a little difference in taste between the two sprouts. The white clover is a little more bitter just when the leaves turn green, where the red clover is neural in taste from seed to ready cultivated sprout. Personally I love the white clover for salads with grape fruits or other vegetables that can play up to their slight bitterness.
I only use the sprouts in their raw form as I prefer them to be crispy to bite in but you could choose to place the sprouts in hot sandwiches or as green decor on otherwice brownish stews to lift the colour pallet.
FIND YOUR SEEDS IN OUR SHOP