MUSTARD SPROUTS
Mustard · Sinapis alba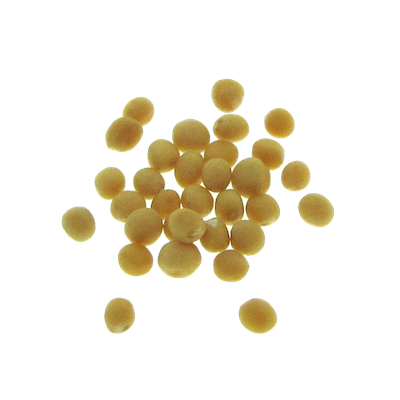 MUSTARD
DRY SEEDS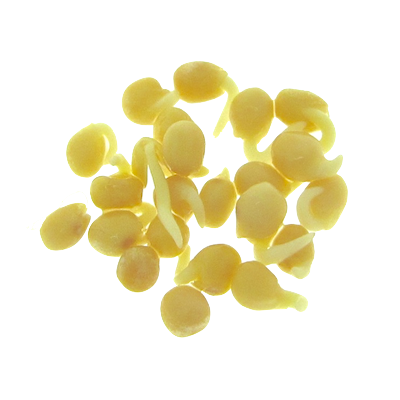 MUSTARD
3 DAYS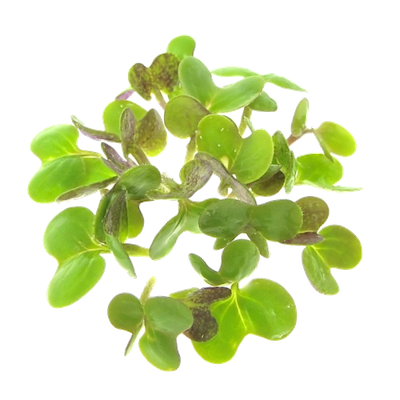 MUSTARD
6 DAYS
MUSTARD SPROUTS
TASTE • EDIBLE PARTS
Mustard sprouts have a taste of medium strong mustard. The little plants are stronger in their taste, the shorter the time you harvest them after they have unfolded their leaves. So if you like them strong, simply harvest them as soon as their fragile, violet leaves have gained colour.
You can eat the whole sprout from root tip to leaf top. But … Mustard is mildly gelling. Therefore, they should either be grown on organic cotton or in a horisontal spout tray with good drainage in the trays. If you cultivate then on organic cotton, you have to cut the roots and lower stems away and only eat the middle and upper plus the leaf top. If you cultivate them in a sprouter, however, you can eat the whole sprout.
You can eat the empty seed capsules, but I prefer to rinse them from the sprouts, as they have a bitter taste.
NUTRIENTS
VITAMINS
B1, B3, B6, E
MINERALS
Iron, Calcium, Magnesium, Manganese, Phosphorus, Zinc, Selenium
PROTEIN
2% – measured in relation to sprouts consisting of 75% water
SIZE • LOOKS
Mustard sprouts will be 10 cm long ex roots. The roots will grow to be just as long. The interesting thing about these sprouts is that they are beautifully dark green on the top of the leaf and violet-brown other side of the leaf. The stem is violet / green / white and their leaves are thin and softly rounded so they look like small, half-hearts. You've guessed it: I find them very cute.
MUSTARD SPROUTS IN RECIPES
As you may sense from the text above, I'm very much in love with Mustard sprouts. They are simply elegant.
Their taste is quite strong, so they can easily carry some of the mustard flawour in a dish. Mustard sprouts are quite delicate so they should be used in cold dishes to keep fresh and crisp. Decoration on sandwiches or on top of small mustard bowls is a good place for them.
If you grow mustard sprouts on small organic pieces of cotton, you can put them in decorative bowls and let your guests even cut them as you like, like cress.