FENNEL SPROUTS
Fennel · Foeniculum vulgare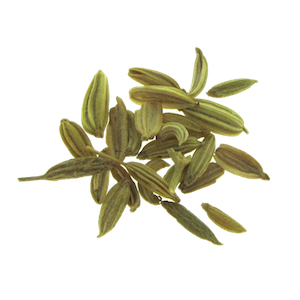 FENNEL
DRY SEEDS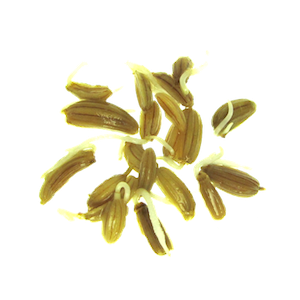 FENNEL
3 DAYS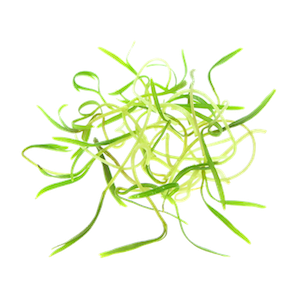 FENNEL
8 DAYS
FENNEL SPROUTS
TASTE • EDIBLE PARTS
You will propably love Fennel sprouts as they taste like a mixture of salad and sweet liquorice as you may know from fennel tea. As sprout you can eat the whole plant including the thin roots and long slender leaves.
When you use the whole sprout in your food in stead of chopping it, the sprouts will keep their colors and freshness for many hours. Only the hard seed hulls can not be eaten because they are too tough to bite in. Fortunately the sprouts will cast these pods during their growth, so the seed hulls are easy to remove just before eating if you rinse the spruts in a big bowl.
NUTRIENTS
VITAMINS
A, C, B3, B6
MINERALS
Potassium, Iron, Sodium, Calcium, Copper, Magnesium, Zinc, Phosphorus, Manganese
PROTEIN
2% – measured in relation to sprouts consisting of 75% water.
SIZE • LOOKS
You need to cultivate Fennel sprouts from all organic fennel seeds, which are dried and stored gently. This will keep these slightly curved greenish seeds good ability to germination. I find the looks of this 10 cm long, slender sprout very beautiful. You will see, this sprout will often develop a pink tone in the stem and leaf, but at other times they are only green and white.
TIPS FOR FENNEL SPROUTS
This elegant, little plant is one of the slowest growing sprouts shown on this website. To get succes with it, you should first soak the seeds for 8 hours. Then place the seeds in a sprouter, where you can make sure the seeds do not dry out. Rinse the seeds morning and evening and do not wory, that they do not seem to show any life for the first 4-5 days. On day 6 the seeds will finally open a little crack and a tiny white root will show its little tip. Continue with very gentle rinsing as these tiny roots are very sensitive and will easily break. On day 14-15 the sprouts should be ready for you to enjoy in your dish.
FENNEL SPROUTS IN RECIPES
I find Fennel sprouts interesting in many cold dishes such as for decoration on desserts Their taste with licorice notes will work well with any  type of ice, cake, smoothie or drink that have licorice in it. The sprouts carry a very light taste, so they cannot carry the liquorice taste in a dish by themselves. But if you sprinkle with licorice powder or use this sprout as an eye opening delicatesse, this elegant little plant will fill its' role very well.