Your can grow your own Sprouts and Microgreens for Iguanas, turtles and other herbivorous reptiles. This is a both fun and easy solution.
As it is often a challenge for enthusiasts to find sufficient organic greens for their reptiles, you can find this post a good read.
Because if you grow your own sprouts, you always have fresh, organic, cheap green at your fingertips.
GROW ORGANIC GREENS FOR IGUANAS A.O.
Reptile enthusiasts know that it is challenging to obtain a sufficiently varied selection of green foods for iguanas, agams, turtles, etc. Especially because reptiles are very vulnerable to pesticides and contaminated greens. It can even be difficult to find completely fresh, organic greens for herbivorous iguanas in the shops.
Many choose to find extra leafy greens in nature, but in the winter the possibility is limited. In addition, the area must be 100% organic and free of pollution from traffic etc. However there is a solution at hand. Literally. If you grow sprouts and microgreens in your kitchen, you can harvest rich variety of 100% organic greens all year round. Easy and much cheaper than buying greens from the supermarket.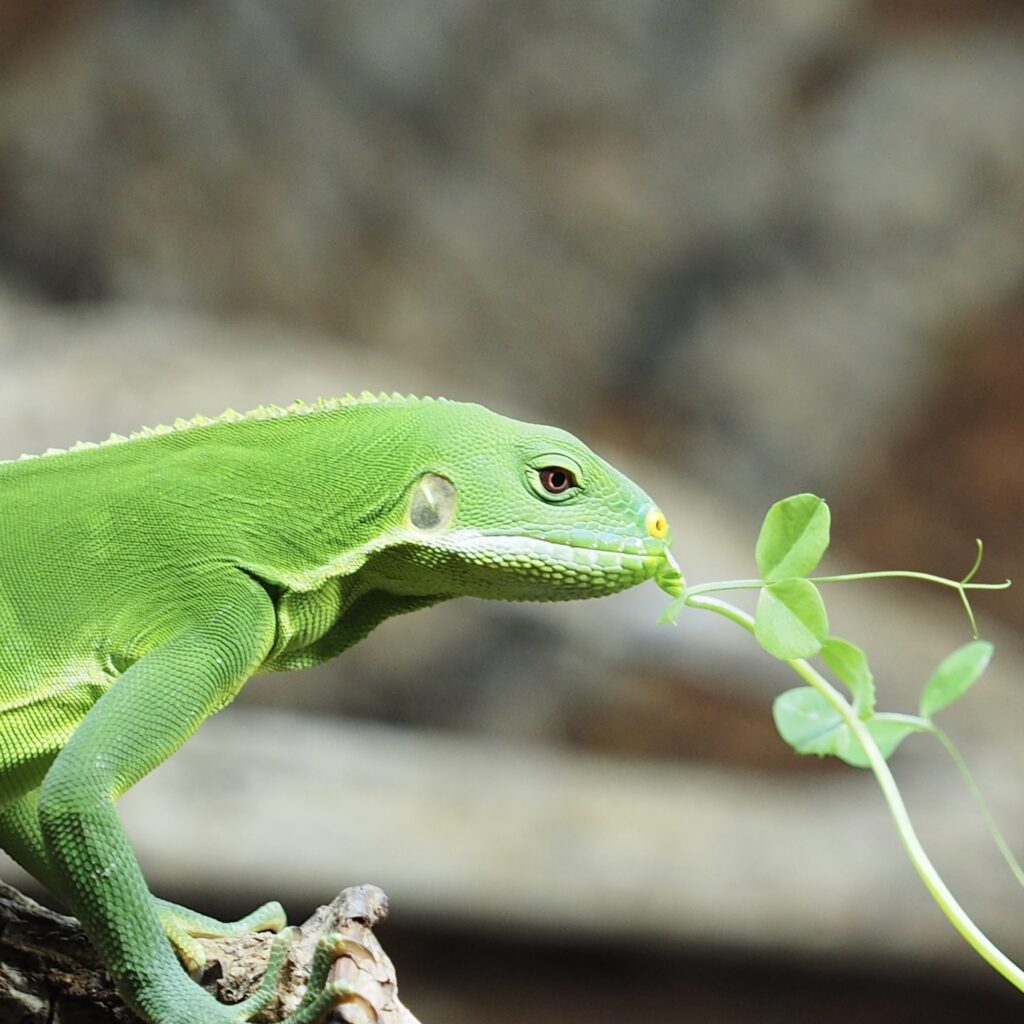 GROW IGUANA FEED FROM ORGANIC SPROUTING SEEDS
The sprouting seeds here in this webshop are always certified 100% organic. They are also harvested, dried and packed with a special focus on maintaining a high level of hygiene in the seeds.
The seeds are also always bacteria tested for Salmonella, Listeria and E. coli. This is a requirement of the overall food authorities of the EU, as certified sprouting seeds are usually sold for the cultivation of raw greens to humans.
These strict rules on the seeds are for the benefit of you who grow sprouts as fodder green for your reptiles. For the strict control of seed purity and ecological status ensures you nutritious sprouts without pesticides or GMOs for your animals.
Did I mention that you usually grow the sprouts for your own salad? So maybe you also want a bite of your fresh sprouts and microgreens yourself?
WHAT SPROUT AND MICROGREEN IS THE BEST FOOD FOR IGUANAS?
You can grow many of the sprouts here in the webshop for fodder greens for your iguanas and other reptiles.
To be on the safe side, I always recommend that you discuss each variety of sprouts with professionals who have deep insight into feed for your unique breed of reptile. This should be before you serve sprouts for feed to your reptiles.
The varieties that all reptiles should be able to tolerate are: Broccoli, Red clover, White clover, Lucerne/Alfalfa and Sunflower.
However, you should NOT give sprouts of Lentils, Beans, Chickpeas and Soybeans to reptiles. Only pea shoots with over 10 cm stem and leaves are ok, but pea sprouts without leaves may still have too many lectins. It is precisely lectins that make legumes questionable for reptile feed. But note that if a professional in your type of reptile says it is ok, then you can listen to them.
HOW TO GROW FRESH IGUANA FAVORIT FOOD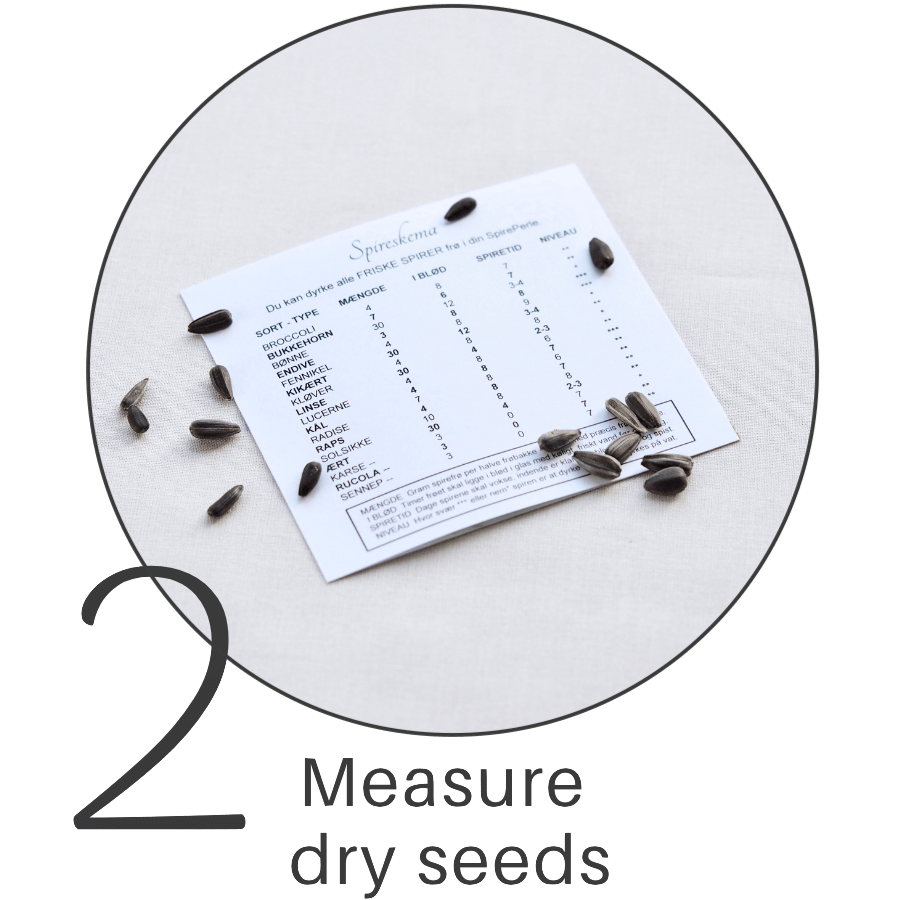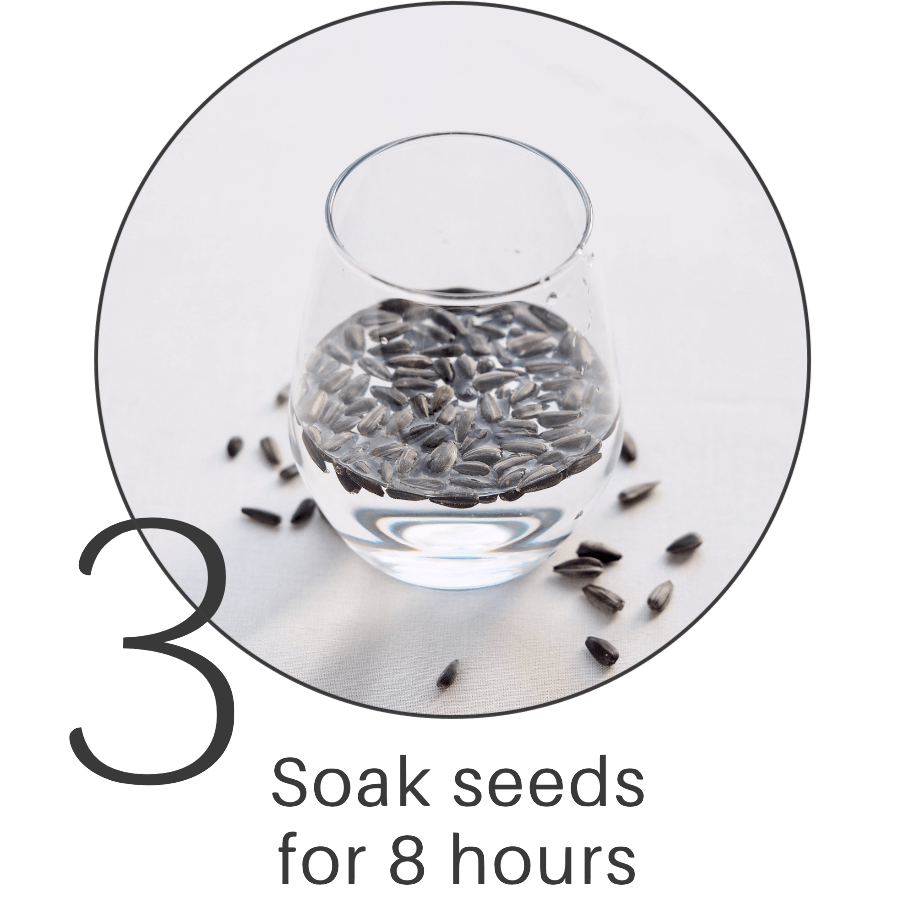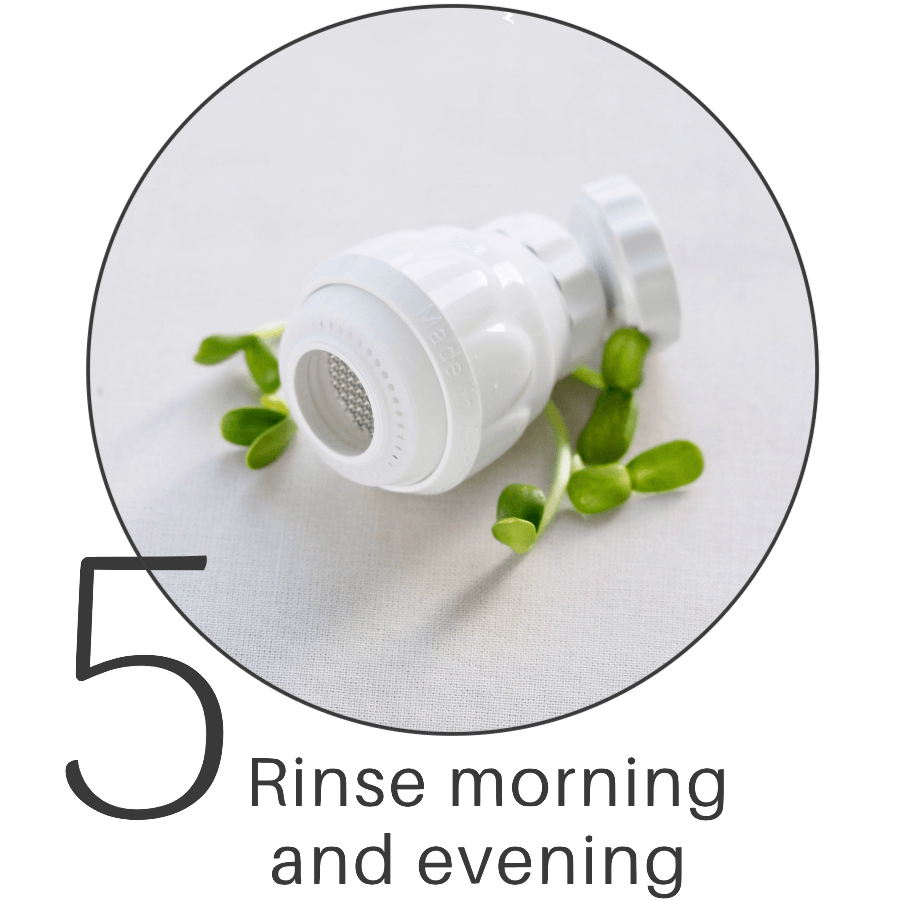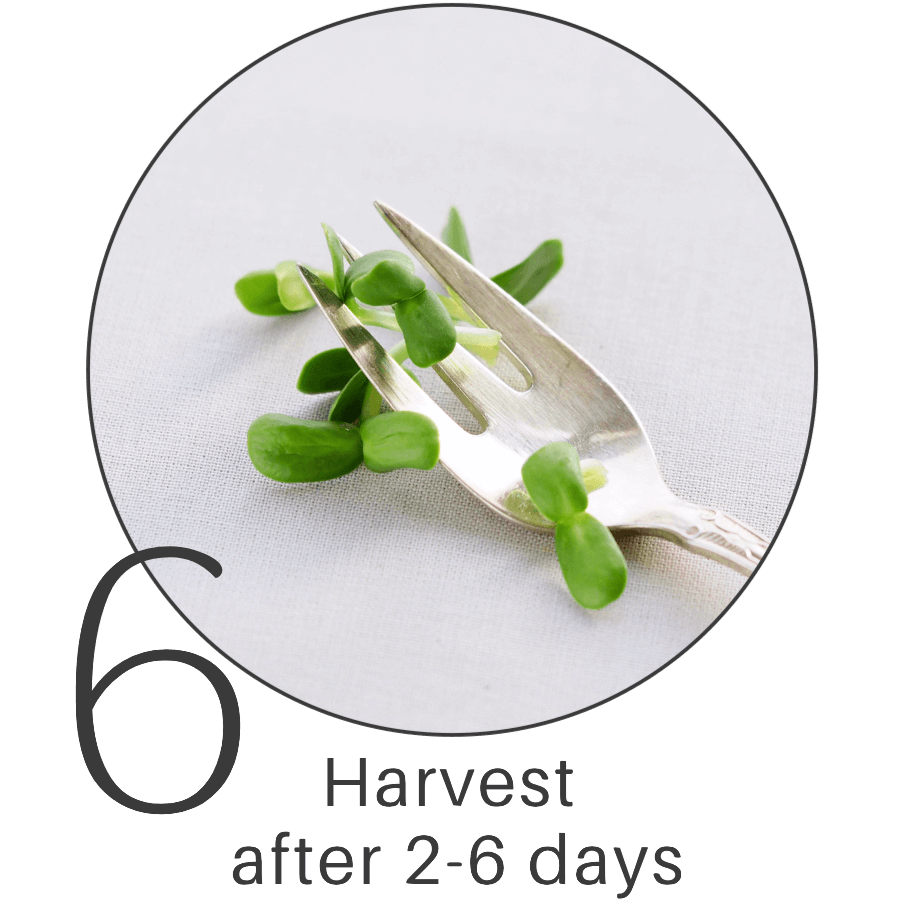 SPROUTS WITH OR WITHOUT LEAVES FOR REPTILES
You will find that your reptiles often want to eat the sprouts already when the small seeds take root. Still, I recommend that you wait to serve the sprouts until they have got their first set of leaves and the leaves have gotten color.
This is because the seeds are rich in, among other things, vitamins and minerals, which are intended to be able to develop a small plant. This nutrient is tightly packed in the dry seed.
On the other hand, when the seeds have developed a juicy sprout with colorful leaves, it is much easier for your reptile to absorb vitamins, minerals and antioxidants in the plant.
The fact that the leaves have acquired color is a good indicator that the sprouts are ripe for harvest and at the top nutritionally.
GROW MICROGREENS FOR IGUANAS WITH OR WITHOUT LIGHT
The discussion of light or darkness when you grow your own sprouts has raged since the 60s, when sprouting had its first wave of popularity here in Denmark.
Since the purpose of growing sprouts as green fodder for iguanas and other reptiles is to give them a good boost of vitamins, minerals and antioxidants, the answer is: Light!
Neither Sprouts nor the bigger Microgreens should not be left in the sun. Direct sun is far too hot, but you can place the sprouter on the kitchen table in a bright kitchen during summer. It is perfect for the plants to develop optimally.
In winter or dark weather, then at least 6-8 hours of artificial light daily from the 4 th. cultivation day is abundant to get tasty and nutritious reptiles green.
HOW TO FEED REPTILES WITH HOMEGROWN SPROUTS
You can choose to harvest the ripe, organic sprouts and microgreens from your sprouter and place them in the animal's feeding tray. A more stimulating way is to put the harvested greens into a Feed Ball. Then the animal can harvest the sprouts itself. Here's how you do it:
Harvest the ripe greens and rinse them in a large bowl of cool water.
Pour the water and the empty seed capsules from the sprouts.
Place the clean sprouts loosely wrapped in the Feed Ball.
Hang the Feed Ball up to your reptile.
Remove the Ball after 12 hours and discard any residue.
Wash the Ball in warm soapy water and it is ready again.
The Feed Ball is galvanized steel and can therefore be used again and again.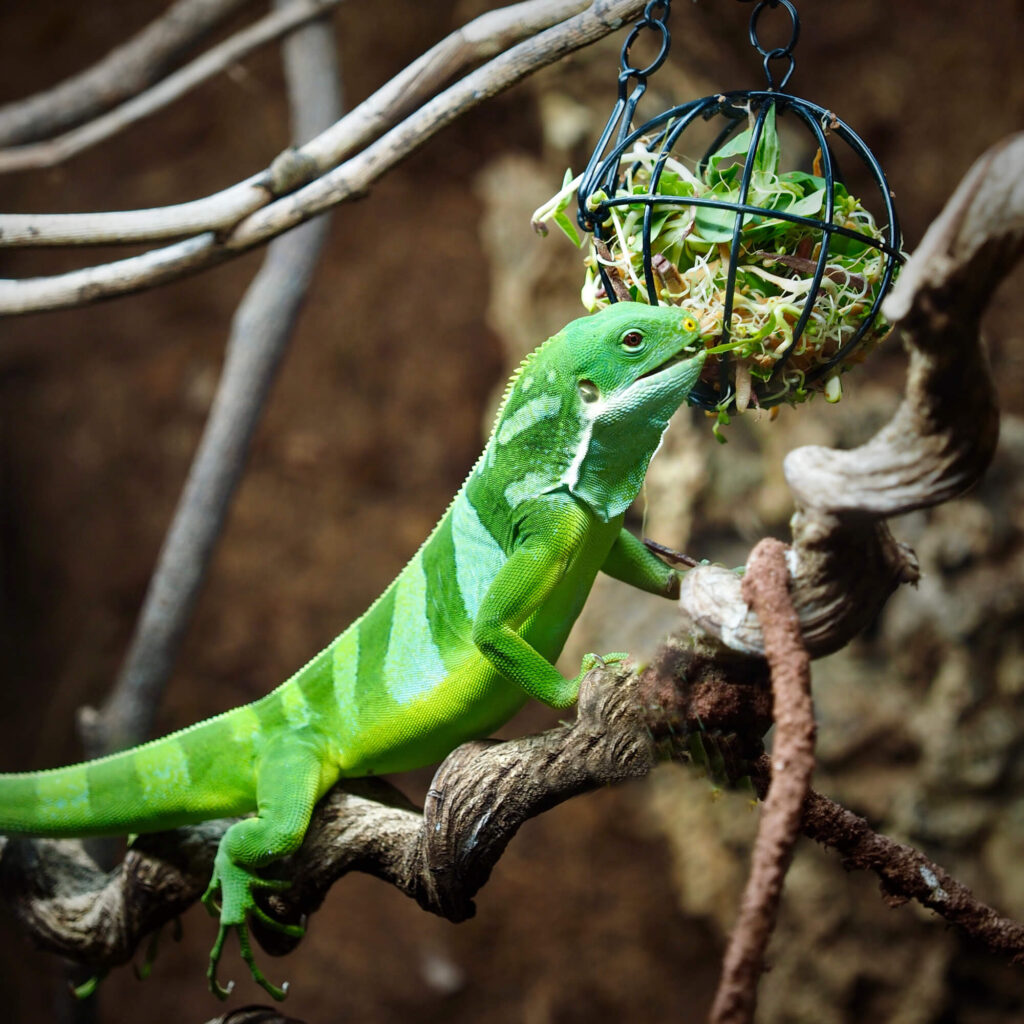 STIMULATING GREEN FEED FOR REPTILES
Are you looking for a great way to feed your reptiles and make their harvest of the feed stimulating? Then you can hang an entire sieve with ingrown sprouts inside your terrarium. Here's how you do it:
Grow your sprouts on the sieve in a Ceramic Sprout Tray.
Let the sprouts grow firmly into the sieve with their roots.
Take the sieve out of the bowl and rinse the sieve thoroughly.
Remove any shells stuck on the sprouts on the sieve.
Hang the sieve inside the terrarium on for example a branch.
Remove the sieve with sprouts after 12 hours. Discard leftovers.
Clean the sieve in warm soapy water and cultivate the next sprouts.
The sieve in the Ceramic Sprout Tray is stainless steel and can therefore be used again and again.
GREENS AND MICROGREENS FOR AGAMES, IGUANAS, TURTLES A.O.
Iguanas are not the only ones who benefit from your fresh organic microgreens. Bearded dragons, turtles and many other reptiles need varied greens every day.
You can therefore advantageously put some of your sprouts in your pet's feeding bowl. Leave the sprouts whole or cut into larger chunks. This way, the reptile can easily recognize and select the plants on or off in their diet.
In relation to the varieties of Sprouts and Microgreens for Iguanas, then Lucerne – also called Alfalfa – will always be a good choice. Clover and Sunflower are also good for any reptiles. They should all be grown for the first set of small leaves. They are ripe when the leaves have turned completely green.
You can grow all three mentioned varieties in a SproutPearl sprouter. It takes 6-7 days from dry seed to ripe sprout.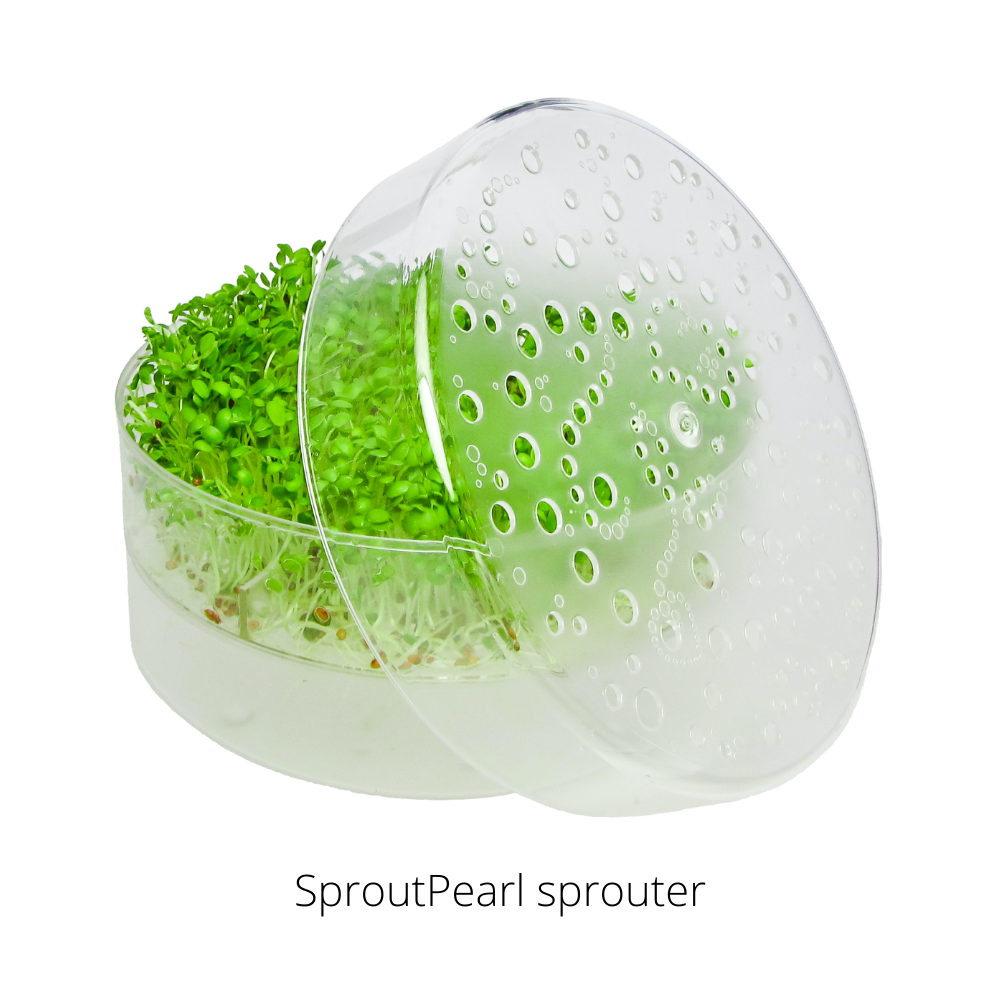 WHERE DOES THIS KNOWLEDGE ON IGUANA FOOD COME FROM?
I send a warm thank you to Mia and Jesper from Jutland in Denmark. They have three beautiful Fiji iguanas and have been reptile enthusiasts for many years.
My warm thanks go to Mia for her help with facts for this blog post and testing possible products for iguanas. Mia is a trained animal caretaker and has always dealt with many different animal species. Two years ago, exotic animals captured Mia's passion as they offer completely different challenges in terms of proper care, feed and habitat.
So Mia's testing of fresh Microgreens and Sprouts for the iguanas is based on professional knowledge and several years of professional experience.
You can find Mia Støvring via Facebook>
FAVORITE FOODS AND MICROGREENS FOR FIJI LEGUANS
Today Mia and her boyfriend Jesper have 6 beautiful bioactive rainforest terrariums. They are the main attraction in their house and is home for their three beautiful Fiji iguanas. This picture above show some of the beautiful 3.5 m³ rainforest that the couple has built into the dining room. That's enthusiasm!
The beautiful terrariums are inhabited by Edelhard, Elanda and Bette My. The three Fiji iguanas are pampered with no less than 10 different vegetables in the feeding bowl every single day.
The iguanas' need for very varied, clean and organic greens led Mia to find FRESH SPROUTS in 2020. Ever since, the iguanas have greatly enjoyed the home-grown sprouts. They even allow hand feeding, when they are offered the fresh microgreens.
Mia uses both sprouts and microgreens for her Fiji iguanas. She has good results with serving Mung bean sprouts with 2½ cm root. She also serve the folloving sprouts and/or microgreens with 1-2 sets of leaves: Pea shoots, Sunflower, Pink cabbage, Red cabbage, Broccoli, Arugula/Rucola, Radish, Endive, Rape seed, Alfalfa/Lucerne, Cress, Mustard, Red and White clover. Mia also tests Beetroot sprouts, as her iguanas like to eat the bigger, fresh beetroot.
PRODUCTS TO GROW SPROUTS FOR REPTILES