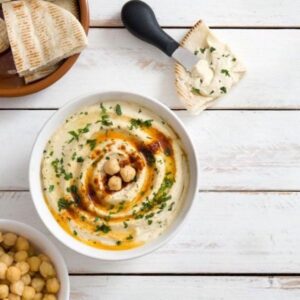 Raw hummus with Lentil and Chickpea Sprouts
Ingredients
9

tbsp

Chick peas for sprouting

2

tbsp

Green lentils for sprouting

1

tbsp

Tahini

1

Clove of garlic

2

tsp

Olive oil

Lemon juice

Salt

Pepper

1

Pinch of dried chilli
Instructions
Soak the Chickpeas for 12 hours and cultivate for 4-5 days till the sprout is 1,5 cm. Soak the Green lentils for 8 hours and cultivate for 3-4 days till the sprout is 1,5 cm.

Rinse the sprouts thoroughly at the end and let drip dry. Give the Chickpeas a short boil for 5 minutes due to the trypsininhibitors in them. Let the chickpeas cool.

Peel the garlic and put all the ingredients except the spices and a few peas and lentils in a blender and let it run untill the consistency of coarse puree. Season with spices and pour into a bowl. Garnish with a few sprouts and serve as a spread for sandwiches or as a dip for vegetable sticks.
BUY ORGANIC SEEDS FOR THE RECIPE